Unique Perspectives Shape Animal Welfare Scientist's Career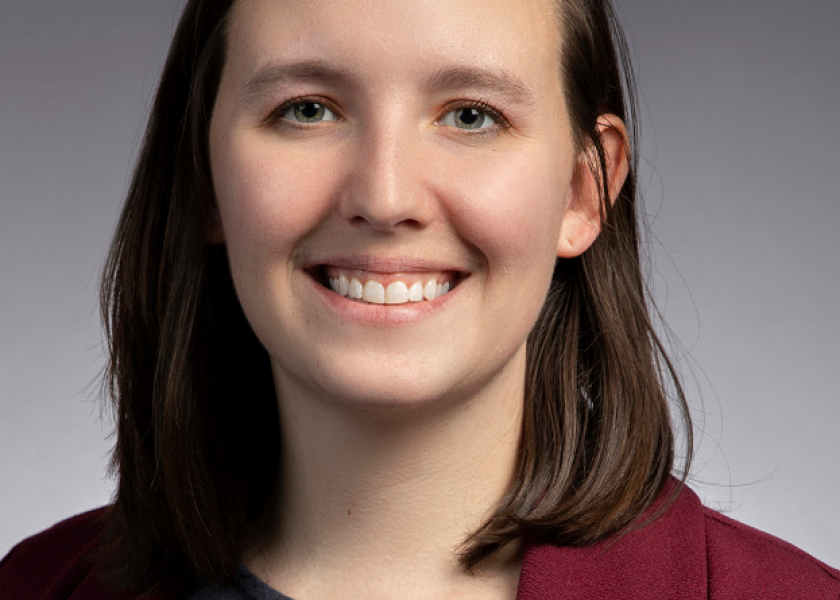 Two valuable and often opposing viewpoints have shaped Nichole Anderson's career as an animal welfare scientist—that of a consumer and also a livestock producer.
Growing up, Anderson lived in the Chicago suburbs and her only agricultural experience was playing with barn cats during the summer on a relative's Wisconsin farm. As an adult, she attended North Dakota State University to get her master's degree, and, in the process, married into a farming family where she saw and participated in the daily life and workings of production agriculture.
"I have this unique perspective of how a consumer with no ag understanding thinks about food products, and I also know the constraints that a livestock producer faces day to day," she says. "I believe I can help bridge communications between those two worlds to move the welfare of animals forward."
Increasingly, Anderson says scientists are finding that addressing an animal's well-being on the farm often improves its overall performance and a producer's bottom line. She cites pain management as one example.
"Back in the day, we didn't think that animals feel pain the same way we do, but now we know that they do," she says. "I tell people, especially my students, don't get down on yourself about the past. What's important is to update what we know now so we can do a better job tomorrow."
Addressing ways to improve animals' quality of life – specifically beef and dairy cattle – is central to Anderson's new role as professor of animal behavior and welfare at the new Texas Tech University College of Veterinary Medicine in Amarillo. The college will open its doors to students for the first time this fall, and all students will be required to take coursework on animal welfare.
Anderson says more universities across the country are offering curriculum that includes animal welfare-focused topics. "It's not new field of study, perhaps a different way to describe it," she says. "Researchers of my parents' age called themselves behavioral physiologists or stress physiologists, but they had similar goals in mind."
In addition to her teaching responsibilities at Texas Tech, Anderson anticipates conducting research on issues impacting cattle, such as heat stress and pain management, working with Texas livestock producers, and offering continuing education workshops on animal welfare topics.
"I think it's important that people understand that animal welfare is not about animal rights activism but rather how to use management practices to provide good care, eliminate or reduce stress, and alleviate pain," she says. "My goal is to always enrich the lives of animals, but I eat steaks; my husband hunts, and I eat venison."
Anderson says enrichment can mean providing animals with simple activities, like giving a dairy cow the opportunity to scratch an itch on a spinning brush or allowing a beef calf to run in pasture. Or, it can mean providing pain management medications for an injury or disease.
Prior to her move to Texas Tech University, Anderson spent the last two years as an assistant teaching professor at the University of Missouri in Columbia. At Missouri, she taught courses in stress physiology, animal behavior, animal production biology and animal welfare. Much of her research deals with issues related to swine and other production animals.
 
Anderson earned her bachelor's degrees in animal science and equine sciences from North Dakota State University in 2012 and her master's degree in animal science with an emphasis on animal welfare from North Dakota State in 2014. She earned her Doctor of Philosophy in Animal Science with an emphasis on animal welfare from Purdue in 2018.
 
Anderson is a certified common swine industry auditor by the Professional Animal Auditor Certification Organization and holds the Pork Quality Assurance organization's PQA plus certification.
Anderson joins a growing team of faculty and staff at the School of Veterinary Medicine. Additional team members will continue to be added over the next few months as the school prepares to welcome its inaugural class in the fall of 2021.
To learn more about Anderson's career and the work of an animal welfare scientist, check out this video done at the University of Missouri-Columbia that Tyne Morgan, Host of U.S. Farm Report, put together during the 2020 College Roadshow: