Texas Veterinary School Takes Shape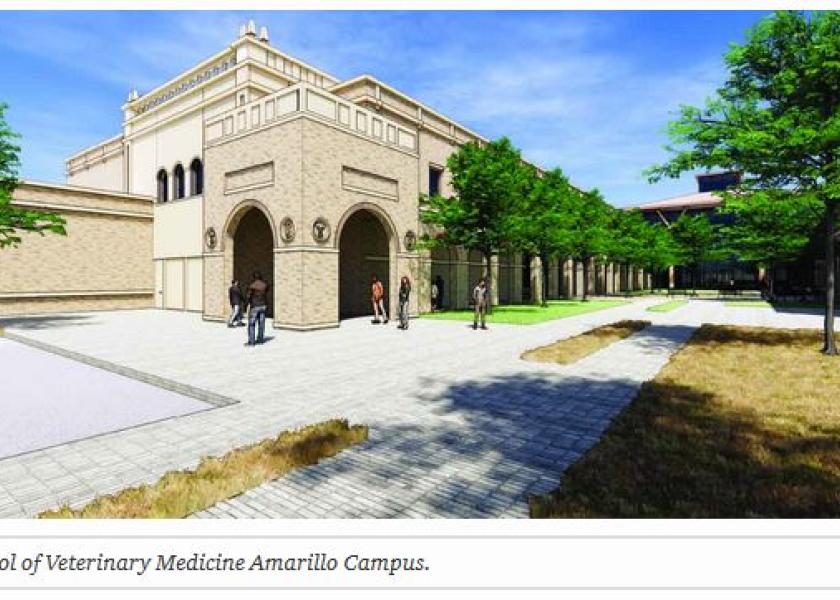 The first veterinary school to be built in Texas in 100 years is well underway on the campus of Texas Tech University Health Sciences Center in Amarillo.
Construction of the School of Veterinary Medicine is on time and progressing as planned, according to Billy Breedlove, vice chancellor of Facilities Planning and Construction at the Texas Tech University System.
 
"We had some really good weather through the winter in Amarillo, which can be a big factor in our construction schedule," Breedlove said. "Since we are going vertical with the steel, you can see the building taking shape."
     
The two-story Amarillo campus will consist of two state-of-the-art learning wings, both designed hand-in-hand with development of the curriculum.
 
The east wing consists of three large classrooms, breakout rooms, a reading room and student support services on the first floor, with faculty and some staff offices, conference rooms and graduate space on the second floor. The west wing will consist of teaching and research laboratories as well as locker rooms, surgery suites, housing for small animals and support rooms for all teaching activities that occur in this wing. The two wings are connected by a lobby that serves as the entry to the building and as a place for students to each lunch and to hold events.
 
Construction of both Amarillo Campus and Mariposa Station are scheduled to be completed in the fall of 2021 as the School of Veterinary Medicine welcomes its first class of approximately 60 students. Occupancy will likely occur in stages to allow for efficient delivery of the veterinary program while some of the complex laboratory spaces are complete. It was made possible by the generous support from donors and civic leaders, who have pledged more than $90 million for infrastructure, construction and scholarships.
 
The School of Veterinary Medicine will recruit and select students with a passion to practice and succeed in rural and regional communities, according to Breedlove. Its curriculum is focused on the competencies and skills necessary for success. It is also focused on affordability for the students, the University and the state.