Sustainable Dairy Farm Thrives With Science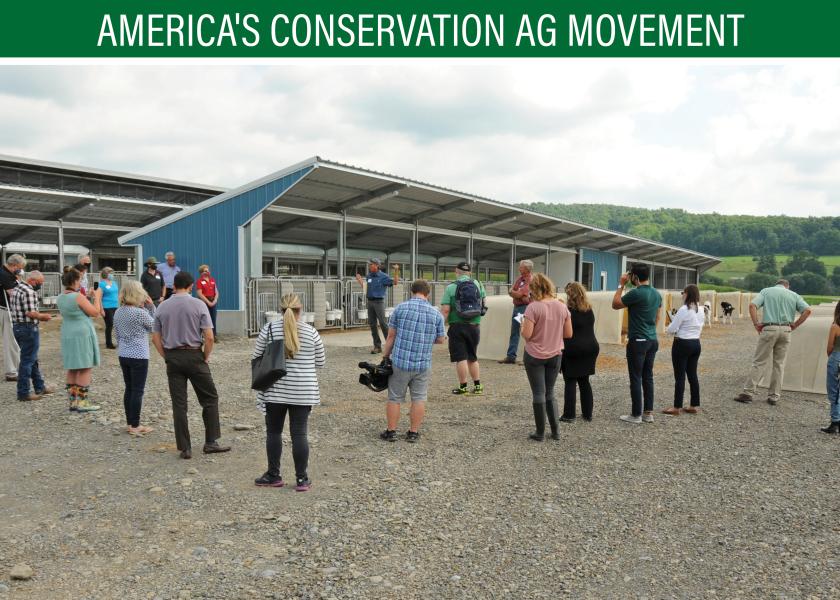 Building trust in food begins with empowering farmers through one of the largest and most diverse conservation- and sustainability-focused public-private partnerships in our nation's history: America's Conservation Ag Movement. To find the latest news and resources related to the Movement, visit AgWeb.com/ACAM.
Sometimes the correlation between agricultural research and real-life application – tangible, on-farm results – are difficult to see. Not so with E-Z Acres LLC dairy operation, based in upstate New York and co-owned by brothers, Mike and Pete McMahon, and operated with their extended family. The partnering relationship between the family and staff at Cornell University's College of Agriculture and Life Sciences (CALS), formed in 1997, bears continual fruit – higher milk production and reduced nutrient use as well as improved water quality for the operation and its neighbors.
"We have luxuriant water here, and we take our responsibility to protect water seriously," Mike says.
The diversified farm includes a 900-head dairy that averages 91 pounds of milk per cow per day and 2,500 acres of alfalfa, soybeans and wheat.
Seventy percent of the farm's land is situated in the northern part of the Chesapeake Bay Watershed, with the remaining 30% in the Skaneateles (pronounced "skinny atlas") Lake Watershed.
Skaneateles Lake, one of New York's 11 Finger Lakes, provides unfiltered drinking water to 230,000 people in the city of Syracuse. In addition, part of the McMahons' land lies over a sole-source aquifer, which supplies water to about 24,000 people in the Homer and Cortland communities.
"We also have two naturally stocked, blue ribbon trout streams that run through our farm," Mike adds.
For their work and dedication to sustainable farming, the McMahons have received numerous honors over the years, including the 2015 Agricultural Environmental Management Award, bestowed by New York Gov. Andrew Cuomo. In 2018, Dairy Management Inc. recognized the McMahons with its U.S. Dairy Sustainability Award.
Along with their successes, the McMahons have known their share of struggles.
In 1997, the operation endured a significant downturn in profitability, a result of higher feed costs and herd health issues that resulted in decreased milk production. As they worked to develop a path forward, the family sought help from CALS, becoming a university case farm and partnering in a number of research programs.
Two in particular helped the farm achieve financial success and forge a sustainable future – the Cornell Net Carbohydrate and Protein System (CNCPS), a ration software program based on the university's animal science research and the Cornell Nutrient Management Spear Program (CNMSP). The former helps the McMahons evaluate and predict animal nutrient requirements. The latter helps them address nutrient needs for their crops and evaluate efficiency of nutrient use at the whole farm level.
The two programs helped the farm develop a synergy between what Quirine Ketterings, who oversees the CNMSP, calls the farm's main nutrient imports and exports.
The primary imports are feed and fertilizer the farm buys, while the exports are milk, meat and manure that the farm sells.
"The difference between the two is a positive, sustainable balance, which is key to keeping the farm's environmental footprint small while also helping the farm be profitable. It's a whole farm approach," Ketterings told a group of farmers, government officials, CALS staff and journalists during a roundtable discussion and tour of the farm in August.
The event was organized by the Farm Journal Foundation, a Washington, D.C.-based nonprofit that advocates for agricultural research and global food security.
Some key achievements of the partnership between the McMahons and Cornell CALS include: the percent of the cowherd's feed ration that the McMahons produce has increased from 46% to 78%. By decreasing the amount of feed purchased and adjusting fertilizer management as well, the amounts of nitrogen (N), phosphorus (P) and potassium (K) imported have been decreased.
As a result, the farm's whole farm mass balance improved over time. During the three-year period of 2003-05 it went from 200 lb. N per acre, 25 lb. P per acre and 41 lb. of K per acre to 105 lb. N, 4 lb. P and 17 lb. of K per acre, respectively, in the most recent three years (2017-2018-2019).
"This tremendous improvement reduced the farm's costs and its environmental risk through source reduction at the same time: a pound of N and P not imported cannot be lost," Ketterings says.  
Furthermore, the McMahons now use a model of sustainability that is based on animal efficiency—not on milk production alone, according to Mike Van Amburgh, who oversees the CNCPS.
"The idea is to look at how much CO2, methane, nitrogen and phosphorus are excreted per unit of nutrient the cow produces," he explains.
"I calculated that they've reduced their herd's nitrogen excretion by over 20%," he says. "That means 32 tons of nitrogen per year no longer leave the farm and go back into the environment."
He adds that between 30% and 40% of what a dairy cow consumes in the Northeast is a byproduct of the human food chain, thus eliminating what might otherwise be waste.
"It's a second-generation product that actually makes all the food that you and I eat much more cost-effective," Van Amburgh explains.
Much of what the family has achieved, they attribute back to their work with Cornell. As part of his 2019 testimony before the House Agriculture Committee, Mike highlighted the need land grant institutions have for funding that will enable them to continue supporting the nation's farms with applied research programs.
Such funding is increasingly difficult to secure, as competition for federal and state dollars is intense. CALS dean Kathryn Boor expressed concern during the EZ Acres farm tour that financial strain from the impact of the coronavirus pandemic has increased the competition as well.
"While the country's short-term needs are many during this pandemic, we cannot lose sight of the long-term gains of funding agricultural research and development," Dean Boor said. "To achieve the sweeping, transformational changes essential to truly sustainable agricultural systems, we need a reinvestment in applied agricultural research and a reorientation of the national research portfolio to include consideration of sustainability issues."
Rep. Anthony Brindisi (D-Utica) echoed Boor's concerns. "One of the things I'm taking away and was made pretty clear to me today is the importance of research dollars for our land grant universities," Brindisi said. "We need to make sure that we're supporting programs like Cornell Cooperative Extension because of how critical they are to farmers across New York and the nation."
During the event, Brindisi announced he is co-sponsoring the America Grows Act. It authorizes a 5% increase in annual funding — up to $2 billion — for the next five years to four U.S. Department of Agriculture research agencies: the Agricultural Research Service, Economic Research Service, National Agricultural Statistics Service, and the National Institute of Food and Agriculture.
Along with the need for funding, David Fisher, president of the New York Farm Bureau, says people need to realize that applied research takes time to go from the laboratory setting to the farm.
"What nutritionists could achieve in a lab-controlled setting in the early '80s took 30 years to understand and then put into commercial practice," Fisher told event attendees. "That's the importance of our land grant research—it takes time and investments to continue moving ahead."