Profitability Potential Steers Producer Support of Traceability Efforts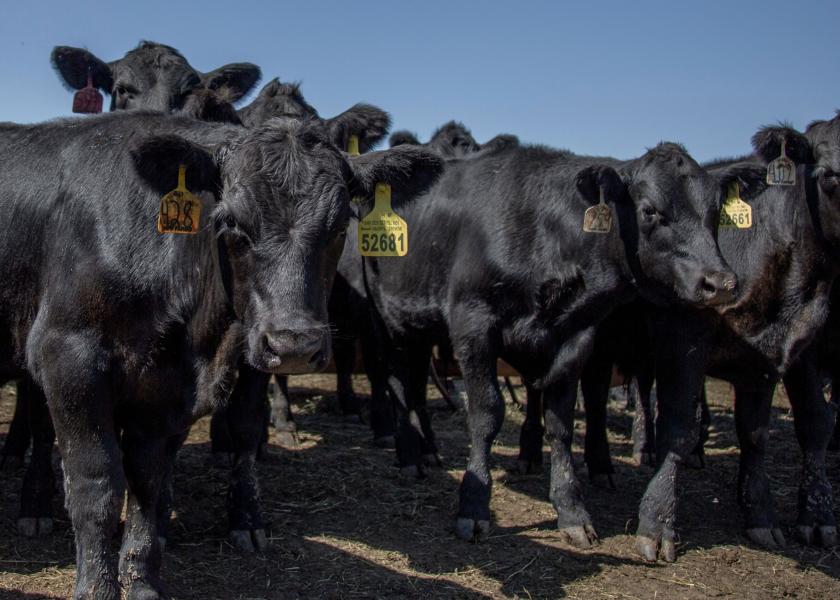 Traceability has the attention of lawmakers. In the last month, President Joe Biden signed an executive order that included a directive to USDA to consider new rules defining when meat can bear "Product of USA" labels to increase transparency for consumers. On the heels of this, Agriculture Secretary Tom Vilsack announced that USDA would work to restore the Packers and Stockyards Act in an effort to level the playing field for farmers and ranchers. 
But what do producers think? Farm Journal conducted a survey to glean livestock producers' thoughts traceability in the United States. Consider these insights:  
U.S. producers are split over the need for a nationwide traceability system
According to the Farm Journal Traceability Study, 62% of livestock producers—a group that included beef, dairy and hog producers—said they were in favor of a nationwide traceability system. This is an increase over a February 2021 Drovers Pulse Poll of beef producers that showed 52% approved of a nationwide traceability system. Approval dropped to 43% in a dairy producer Pulse Poll.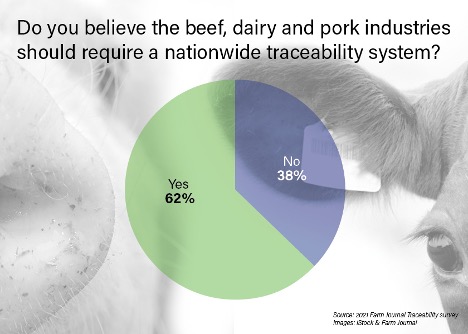 RFID is a lynchpin to traceability
The Farm Journal Traceability Study showed 33% of respondents use RFID. And, for those in favor of a nationwide traceability system, 42% use RFID in their operation compared to only 18% of those who oppose traceability. 

This has proven to be a controversial topic in recent years that includes a lawsuit to prevent mandatory RFID and another one to ensure USDA adheres to the Federal Advisory Committee Act (FACA) and the Administrative Procedure Act (APA). Even so, USDA maintains RFID devices will provide states and the cattle and bison industries with the best opportunity to rapidly contain the spread of high economic impact diseases.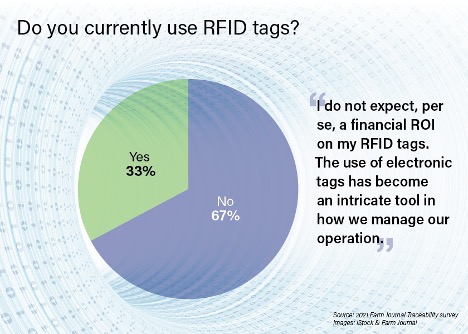 Profitability still drives the cattle market
Farm Journal's Traceability Study dug into what would drive more producers to support traceability. The No. 1 answer: profitability. In fact, 68% of all respondents say they expect some level of return on investment for sharing their data, regardless of whether they are in favor of traceability.

But how much money are we talking about? For those in favor of a nationwide traceability system, 30% of respondents said that it should be $11 or more per head. For those opposed to a nationwide traceability system, that number jumps to 44% who expect $11 per head or more.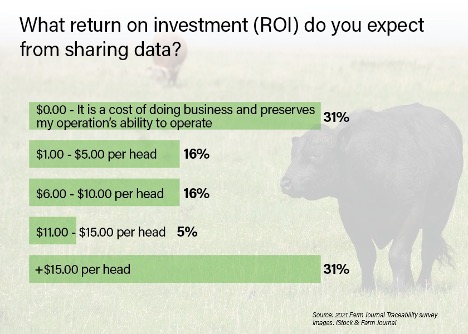 What's steering producers' opinions? 
The top reason producers would participate in a traceability program is to track disease outbreaks. For those opposed, the second highest reason would be to qualify for a premium or branded program.

Traceability has two fronts: one to track diseases and one to address consumer issues that impact producers' bottom lines. While consumers want to buy products that match their personal values, producers need a means to meet those demands that makes sense for their operations.

Contact Farm Journal to learn more information on this study and our commitment to traceability.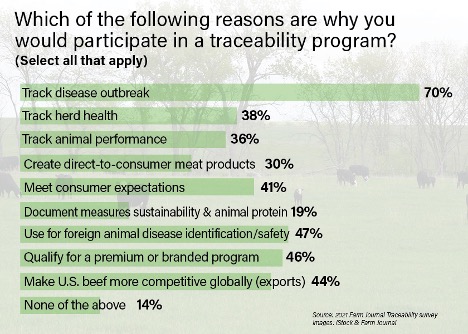 Visit the Drovers Traceability Center for complete coverage.