OIE Stresses Importance of International Animal Health Standards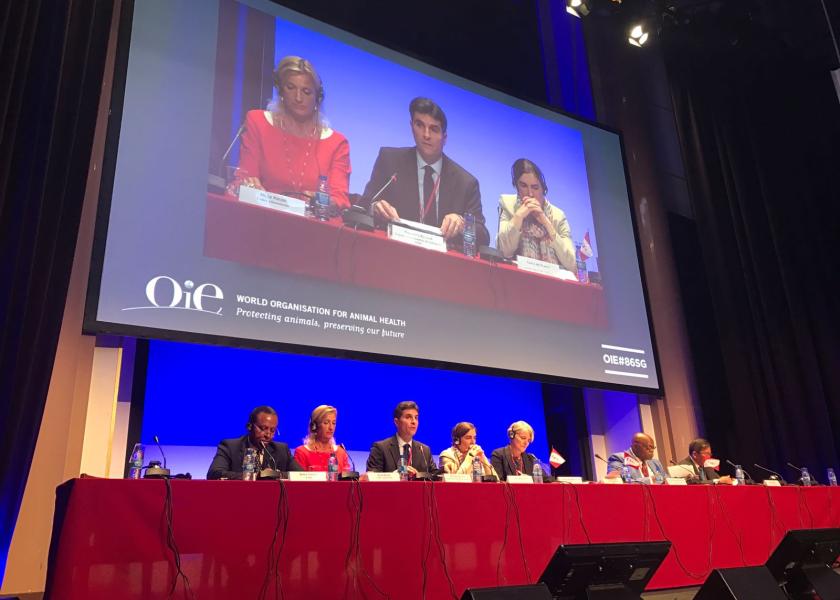 During the 86th General Session of the World Organization for Animal Health (OIE), officials presented a report on the state of play on the implementation and capacity building needs in respect to OIE International Standards.
Nowadays, 18% of the world population depends of their livestock for their livelihood. In a context of globalization, the existence of measures that make it possible to prevent and control animal diseases and build strong Veterinary Services is consequently essential not only to protect animal health and welfare, but also human health, the economy and social well-being of populations.
The OIE International Standards are the reference of the international community in this regard.
"Stronger compliance by national Veterinary Services and Aquatic Animal Health Services with OIE International Standards is essential for improving animal health, animal welfare, and veterinary public health at the national, regional and international level." Dr Monique Eloit, OIE Director General.
The Opening Ceremony of the 86th OIE General Session on Sunday, 20 May was the occasion to present a new educational video describing the scope of these Standards and the importance of their national implementation.
Watch the video OIE International Standards
Benefits and Challenges of OIE International Standards implementation
On the second day of the event, a report on the state of play of the implementation of the OIE International Standard in national legislations was presented, examining the benefits they bring to Member Countries, the challenges faced by Member Countries and specific capacity building needs.
To build this overview, the OIE sent a questionnaire to all 181 Delegates, of whom 80% responded. This high engagement of Member Countries in replying to the OIE call shows the degree of importance OIE International Standards hold for its Members. Their answers helped to list and analyze challenges to the use of OIE International Standards. Key challenges identified by Member Countries to implement standards at national level were:
A lack of training on OIE International Standards, including within the context of the SPS Agreement
A lack of technical expertise
Obsolete national veterinary legislations
Little or no confidence in applying risk management
An absence of transparency
Failure of both exporting and importing countries to uphold OIE International Standards
According to respondents, the normative role of the OIE and provision of relevant training and communications materials to policy makers are particularly important to avoid non-scientific responses to disease events at the national and global level.
The OIE PVS Pathway program that helps countries improve the performance of their Veterinary Services, was also highlighted as an important support to developing countries and increasingly finding application to developed countries.
Read the full report: "Implementation of OIE Standards by OIE Member Countries: State of Play and Specific Capacity Building Needs"
See the presentation of the report during the 86th General Session
Watch the interview of the rapporteur, Dr Sarah Kahn
A needed improvement for transparency worldwide
While awareness of global health challenges is shared by all, there remains a need for harmonization of approaches on a multilateral level. According to Member Countries' answers to the questionnaire, pitfalls are in part due to a lack of transparency of sanitary measures resulting in a lack of trust between trading partners.
During the panel, "Establishing trust in the multilateral trade system through transparency and Standard's implementation monitoring", hosted by the OIE on 22 May 2018, participants cited many benefits of transparency for different sectors:
For international organizations and their members: transparency supports an effective and inclusive multilateral rules-based system.
For the private sector: transparency contributes to a level playing field and to a stable environment that allows the private sector to flourish, which in turn helps to create employment, promote economic growth, food security and reduce poverty.
For civil society: transparency contributes to build trust in public action and in the multilateral system.
"Building trust and enabling transparency by implementing International standards are relevant to reach equity among nations," says Berhe Tekola, FAO Director Animal Production & Health.
"Scientific data and information and international food safety standards are global public goods that depend on transparent and objective processes," adds Catherine Anne Mulholland, World Health Organization (WHO).
See the panel of International Organisations (Codex Alimentarius, FAO, World Bank, WHO, WTO) during the 86th General Session
Routes for improvement of OIE International Standards implementation
The answers collected thanks to the questionnaire will contribute to the development of practical solutions.
To pursue this effort, the OIE is building the Observatory, an initiative designed in collaboration with the OECD, to monitor the implementation of OIE International Standards and to determine the constraints and difficulties Member Countries face. This will enable the OIE to better establish the effectiveness and practicability of its standards, and to propose solutions to Member Countries.
These solutions will endeavor to help Member Countries consider more systematically OIE International Standards in their national legislation and decision making, and better uphold their commitments to International Organizations, including the World Trade Organization (WTO).
"Benefits of international standards go beyond trade facilitation. They contribute to bringing together state of the art expertise and to achieving the policy objectives of countries, including poverty alleviation as well as other benefits to populations", Dr Céline Kauffmann, OECD Deputy Head of the Regulatory Policy Division.
Learn more about the OIE Observatory