Field of Art: An Ohio Farmer's Life-Size Tribute to 9/11 is Planting Seeds of Unity for 20th Anniversary
U.S. Farm Report 09/04/21 - 9/11 Tribute From the Farm
Flying over Ohio this time of year, green fields paint a lush picture. For one farmer, those fields were a blank canvas for something he was ready to create.
"We've been doing the multi-hybrid variable rate for several years now, and we see different colors in the field," says Wilbur Meyer, a farmer in Brookville, Ohio. "Can we do something fun, something cool and something patriotic?"
And in 2017, that's exactly what the Ohio farmer did.
"Our first picture in the field, we did an American flag," says Meyer.
From an American flag one year to a POW tribute the next, Meyer's field artwork has grown. And this year's tribute is by far the biggest.
"It's going to be the 20th anniversary of 9/11, and he [Integrated Ag Services] said, 'What do you think of that?' I said, definitely this is something we need to do," says Meyer.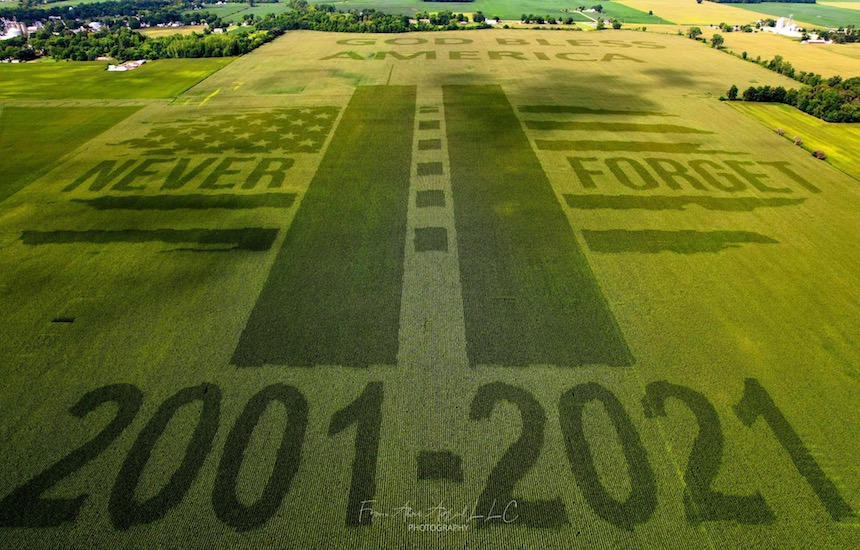 It wasn't just any tribute, the orchestrated tribute is a one-to-one scale of the Twin Towers.
"The overall picture, titled 'God Bless America,' is 3,500-feet tall, 2,800-feet wide," says Meyer.
From a jpeg image to then writing the script through Ag Leader, every hybrid is selected for its unique characteristics.
"You get with the script writers and they basically take the jpeg image and put it into Ag Leader, and they can assign reference points to the picture, which allows them to then break it into the multi-hybrid."
From selecting hybrids for its unique characteristics to writing the script that allows the various colors and structure of the corn leaves to help create such a detailed picture, the result is a salute that's now extending beyond Meyer's Ohio farm field.
"I've gotten messages from L.A. to New York; we've seen people from other countries respond," he adds. "I never dreamt that we would touch so many people. I mean, it's been very humbling, to say the least."
As Meyer continues to be humbled by the reaction, the Ohio farmer didn't even realize this past spring that what he was planting was more than just a 9/11 tribute. His efforts are planting seeds of unity.
"As a farmer, we're all patriotic," says Meyer. "We all do things in our own way. And I'm lucky enough to have the technology and the friends to do this."
An American farmer, who's also a volunteer firefighter, and his "God Bless America" field picture was also an effort to honor those fallen on that September day.
"We wanted to bring light to a lot of people's day, especially right now with the current climate in the United States, it's nice to bring some positive things."
One field. One picture. And one grand effort to ensure two decades later, we never forget September 11, 2001.