Deep Sense of Satisfaction Fuels Eckert's Tenure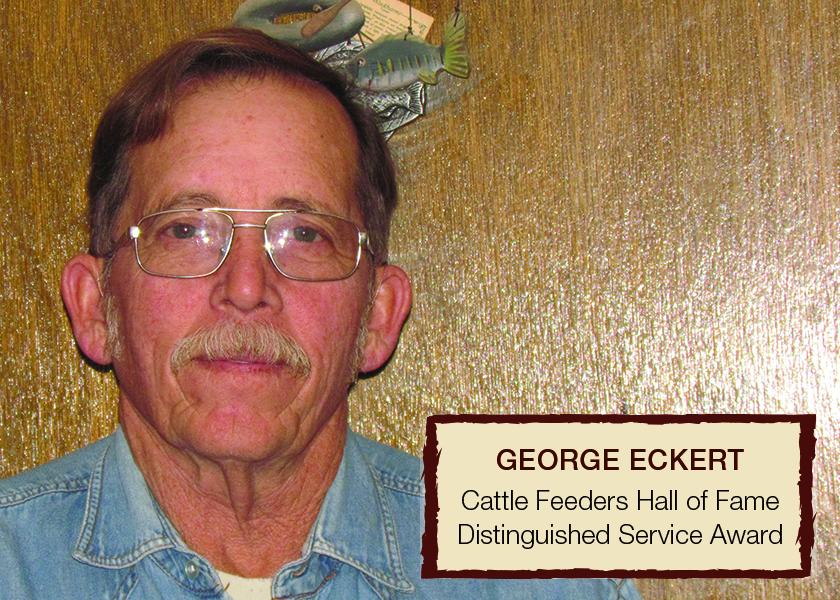 It's not a glamorous job, but it's a very rewarding and fulfilling job, says George Eckert, about his role as maintenance supervisor for Green Plains Cattle Company's Leoti, Kan., feedyard.
"If you have the character to do it, it's a job you can take pride in," he says. That attitude and deep satisfaction in his work has led to a long career at the yard, which has a capacity of 106,000 head.
Eckert began his career with the company in 1984, when he was looking for a place to winter until spring and greener pastures came along, but it grew into something he loved, and he's been there ever since.
"I stumbled into a job that fit me and I grew to love. I started out running rolls and probing trucks, and then I moved into maintenance," he says. Now, Eckert's day-to-day role as the maintenance supervisor has him overseeing the daily operations of over 200 different pieces of equipment.
"In the last 10 years, 'George's mills' as he calls them have produced approximately 10,950,000,000 pounds of feed," his nomination reads. "To put that into perspective, it would be a wall 25-feet-tall, by 10-feet-wide and nine miles long." Eckert achieves all of this with an average down time of only 30 minutes a day between his two mills. 
His long tenure and dedication to the industry hasn't gone unnoticed. In August, Eckert was named a recipient of the Arturo Armendariz Distinguished Service Award from the Cattle Feeders Hall of Fame, something he humbly credits to those around him.
"I did not achieve this award by myself. I'm grateful for the award, but I've had a whole host of teachers, mentors and coworkers who have enabled me to achieve my goals throughout my years," he says. "Without them, I don't know if this would have been possible. So, I cannot accept this award without thanking everyone that has taken the time to grow me."
The people that he works with, and a daily personal goal of avoiding breakdowns or downtime, keep Eckert inspired day after day
"There's a feeling of accomplishment when we get to through the day and everyone goes home on time and there were no problems," he says. "It's a rewarding feeling that, 'hey, I knocked another one off the calendar, let's set our sights on tomorrow.'"
Solving a years' long problem stands out as a highlight for Eckert as he reflects on his tenure on the crew, not only by finding a solution, but increasing efficiency in the process as well.
"In one mill we had problems with flakes hanging up in the bins and not clearing out, and when we figured out what was going on and eliminated the problem, that was one of my favorite victories. It eliminated a problem that we had fought for years, and we were able to do away with it," he explains.
Eckert took a backwards approach to solving the issue, instead of adding equipment to try to overcome the issue, he removed two log rolls from the bin, which improved the flow and had fewer places for the flakes to get caught. Now when the bin is filled it empties as it should, when previously it would have to be cleared of stuck feed every three to four weeks.
When he thinks to the future of the industry, Eckert hopes that some of the political divide can be set aside and initiatives that truly make sense for not only the cattle industry, but the consumer as a whole, will be implemented.
"The consumer has always been powerful, and the consumer needs to get the best quality beef or product that we can produce. The care that we take with our livestock here is bar-none some of the best around, and some of legislation out there would devastate not only the feeding industry, but the cattle industry as a whole, and it just doesn't make sense. I'd like to see some of those things disappear," he explains.
As for himself, in the future Eckert looks forward to retirement and spending time with his grandkids and doing a lot of fishing.
To learn more about the Cattle Feeders Hall of Fame, visit cattlefeeders.org.