DCHA Earns RACE Provider Status; Plans Annual Conference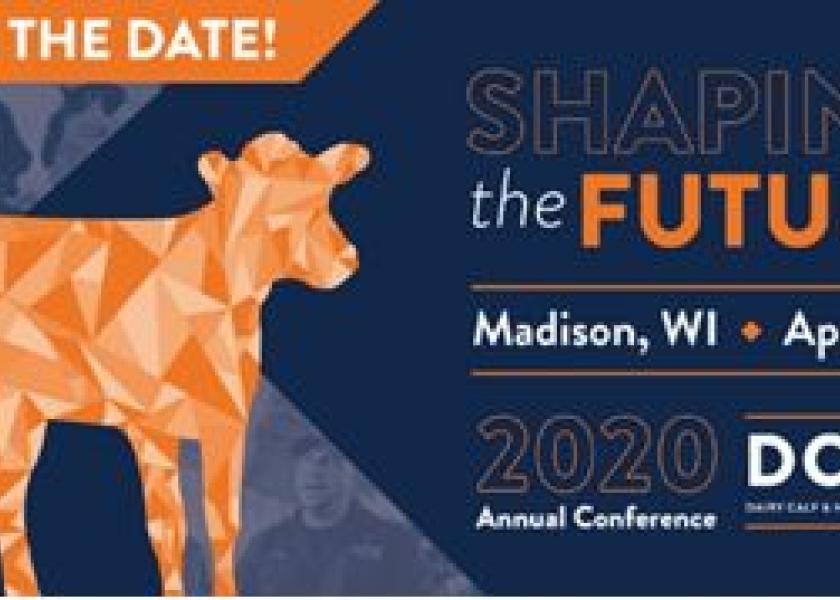 The American Association of Veterinary State Boards RACE (Registry of Approved Continuing Education) Committee reviewed and approved Dairy Calf and Heifer Association's RACE provider application. Offering RACE credits for DCHA programs is a new endeavor for the association. Given this status, DCHA will submit a RACE application for its annual conference and regional meeting, and anticipates receiving RACE-approved continuing education units. Watch for this news on the DCHA website.
DCHA's Regional Meeting, Oct. 27-29, in Visalia, Calif., represents another new DCHA initiative. The event includes educational programming and a dairy calf ranch tour.
Head to 'Madtown" for annual conference
This year's DCHA Annual Conference, April 7-9, Madison, Wis., provides unparalleled educational and networking opportunities for veterinarians, consultants, educators and  producers/managers, along with highlighting the latest techniques, management strategies and research. With a conference theme of "Shaping the Future," attendees will gain valuable knowledge and practical strategies to build a strong future for their calf and heifer business enterprises.
Bovine veterinarians provide crucial expertise and skills that help dairy calf and heifer managers strengthen animal health and future productivity and profitability. "DCHA promotes sustainable practices that foster profitable and successful dairy calf and heifer production," said DCHA President T.J. McClure, Johnson City, Kan. "We welcome bovine veterinarians to learn with DCHA members and help shape our future."
"The conference agenda features timely topics and helpful strategies that calf and heifer raisers can take back to their businesses to enhance animal welfare, safety, animal and worker health, profitability and sustainability," said Tamilee Nennich, DCHA Annual Conference co-chair. "This year's conference, once again, provides valuable networking opportunities – with peers and industry colleagues."
Do more, be more, have more
Keynote speaker Matt Rush kicks off the conference. He says, "You can do more, be more and have more than you ever thought possible; you just have to be willing to get over yourself to get there." Rush is passionate about helping others and is dedicated to developing a strong, successful future for current and upcoming generations.
In addition to Rush, Emily Yeiser Stepp, senior director of The National Dairy FARM (Farmers Assuring Responsible Management) Program, will address FARM and how it relates to DCHA's Gold Standards, and Don Höglund, owner of Dairy Stockmanship Company, will discuss calf handling, as general session presentations.
Breakout speakers and topics include:
•    Chris Chase, South Dakota State University – Understanding the good, the bad and ugly of the innate immune response
•    John Ellis, Western College of Veterinary Medicine, University of Saskatchewan – Why aren't we all dead? – Building on Mother  Nature's plan for inducing adaptive immunity through vaccinations
•    Sarah Adcock, University of California, Davis – Disbudding practices: Present and future
•    Matt Rush, inspirational speaker and farm boy – Breaking the connectivity code
•    Grant Crawford, Merck Animal Health – Managing and marketing dairy x beef crossbred cattle
•    Gavin Staley, Diamond V Mills – Why heifer maturity matters. The Peter Pan problem
•    Michael Steele, University of Guelph – Calf nutritional management in 2030: Challenging the dogma
•    Jason Lombard, U.S. Department of Agriculture Centers for Epidemiology and Animal Health – New passive transfer standards for dairy calves and how to achieve them
Preconference tour and seminars
The 2020 DCHA preconference tour, set for the morning of April 7, features Larson Acres, Evansville, Wis., with an opportunity to see their all-in, all-out calf management system. Positive-pressure ventilation tubes run constantly in occupied barns to supplement natural ventilation. In addition, University of Wisconsin-Madison's Jennifer Van Os will lead discussions on social rearing of calves and disbudding that morning. Plus, Terri Ollivett, UW-Madison School of Veterinary Medicine assistant professor, will address calf pneumonia and ventilation.
Furthermore, two companies – ABS Global and NovaVive Inc. – are sponsoring pre-conference seminars the afternoon of April 7. Matthew Cleveland of ABS Global will discuss creating the most valuable calves across the dairy herd (differentiated beef on dairy program) and Luciano Caixeta from the University of Minnesota will address pre-transportation strategies to enhance heifer calf health and performance.
During the afternoon of April 9, Höglund will conduct an optional post-conference session – demonstrating effective and safe calf-handling techniques.
To view the conference agenda and to register, go to: Bit.ly/DCHA2020conf. Click the "Register Now" tab to register. For more information about the 2020 DCHA Annual Conference or to become a member, visit www.calfandheifer.org, call (855) 400-3242 or e-mail info@calfandheifer.org.