Consumers Care About Calves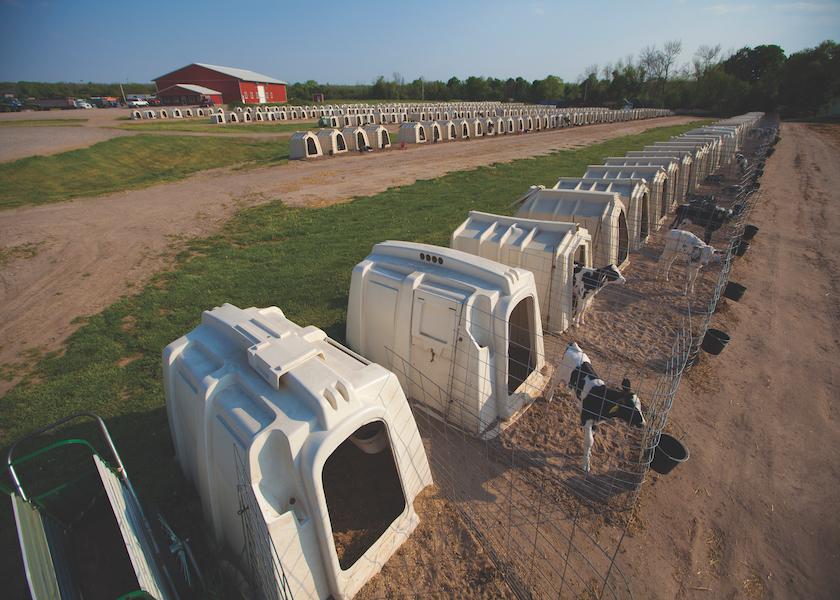 In the public's perception of dairy production, consumers have a soft spot for calves. That soft spot could mean some hard decisions about the way calves are raised in the future.
"Our daily decisions as calf raisers usually are not impacted by consumer perceptions," said bovine veterinarian and social media "agvocate" Marissa Hake. "But that could change."
On a recent webinar sponsored by the Dairy Calf and Heifer Association, "Consumer Perceptions and Animal Welfare Considerations," Hake told the audience that – like it or not – today's farmers must operate under a "social license" granted by consumers.
"Agriculture's social license is rooted in the beliefs, perceptions and opinions held by consumers," she stated. "It is given and taken away based on the information they receive." She noted that facts, truth, and science do not factor into the granting of that license.
Hake said when consumers are asked about animal welfare on dairies, one of their greatest concerns is the care and treatment of young calves. "Because they are babies, calves evoke an emotive response in people, especially women," she stated.
That translates into real demand impact. According to Forbes magazine, 70 to 80% of grocery purchasing decisions are made by women.
The U.S. dairy and veterinary medical industries have proactively addressed and adjusted many animal-welfare-related practices for calves, including tail docking, dehorning/disbudding, castration, transportation, and euthanasia.
But still high on the list of concerns that the non-farming public has about dairy production is the removal of calves from their dams at birth, along with the widespread practice of rearing them in isolation.
"Calf hutches were developed to protect calves' health and productivity," shared Hake. "They were promoting 'social distancing' before it was cool."
 But she said recent research has shown that, compared to housing in individual hutches, pair or group housing resulted in preweaned dairy calves that had equal or better average daily gain, dry matter intake and average weaning weights. In some cases, they also experienced lower morbidity and mortality rates.
A data review by researchers at the University of British Columbia might explain why. They found that young animals were more likely to begin consuming solid feed earlier when reared in groups versus individually. Another study published in the Journal of Dairy Science in 2018 showed that, when grouped earlier in life, calves tended to show frequent, positive social interactions and a lower incidence of stressful behaviors compared to those reared individually.
The merits of pair and group housing also have been studied extensively by researcher Jennifer Van Os and her colleagues at the University of Wisconsin. Their results and recommendations can be accessed via a comprehensive Pair and Group Housing of Dairy Calves website.
The Wisconsin team has consistently found that calves reared in pairs or groups are better equipped to embrace new feedstuffs, environmental changes, and commingling with new pen mates because they are adapted at a young age to those stressors. 
Hake pointed out that successful rearing of calves in groups is largely dependent on milk intake. "I think many producers are turned off to the idea of group housing because early renditions of the practice did not offer enough milk to do it successfully," she shared. "We now know that higher milk allowances largely prevent issues with animal competition, inconsistent growth and cross-sucking."
To be sure a calf-raising operation has effective management systems in place before attempting group or pair housing, she recommended reviewing benchmarks for calf health issued by the University of Wisconsin.
European dairy farmers are familiar with the need to adapt their production practices to address consumer concerns. A recent paper from the United Kingdom evaluating dairy calf rearing and housing practices noted that farmers will need to proactively change practices based on consumer concerns, or risk have those changes imposed on them via legislation.
The report stated: "Consumers will continue to force changes in industry practices and argue for a reform of legislation based on morality rather than economics, especially in modern and rich societies."
 But Hake is optimistic that calf rearing and housing practices will continue to evolve at the farm level, as dairy producers embrace the scientific, welfare and production results of modified housing systems. "Innovation almost always begins on the farm," she stated. "I have a lot of confidence that on this particular issue, everyone can come out a winner – especially the calves."