Advanced Diagnostics Help Battle Evolving Pinkeye Challenges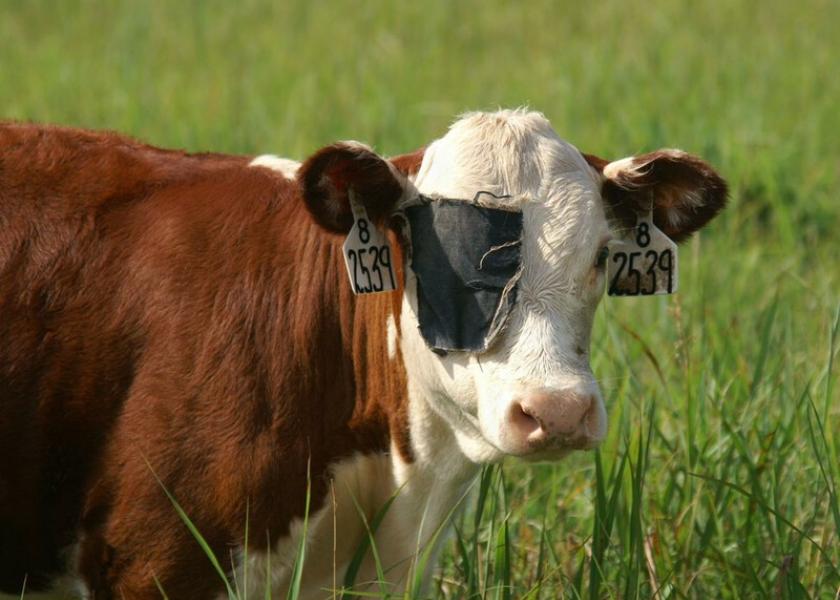 This article was developed by Newport Laboratories.
With the capability for an untreated pinkeye infection to lead to blindness and permanent damage within 72 hours or less, an outbreak can be an emotional and challenging battle for producers. Outbreaks have become more prevalent within vaccinated herds due to emerging species of pinkeye bacteria. As pinkeye becomes more complex to control, advanced diagnostics play a critical role in providing producers and veterinarians with a solution.
The change in landscape and need for diagnostics
"Historically, Moraxella bovis (M. bovis) has been considered the main species of bacteria associated with pinkeye," said Jason Shumaker, DVM, MS, technical service veterinarian at Newport Laboratories, Inc. "Throughout the past 10 years, we've been seeing a major shift in the landscape of pinkeye."
Dr. Shumaker explained how pinkeye is more commonly being reported year-round compared to the past when outbreaks were more common in the summer. Along with this trend, veterinarians and producers are reporting more cases of pinkeye outbreaks associated with emerging species of pinkeye bacteria including Moraxella bovoculi (M. bovoculi) and Mycoplasma bovoculi.
 "At Newport Labs, we've been finding M. bovoculi and Mycoplasma bovoculi three times more than traditional M. bovis," added Dr. Shumaker. "Unfortunately, there also aren't commercial vaccines available that protect against the emerging Mycoplasma bacterium or a combination of M. bovis and M. bovoculi.
"Since the most common pinkeye vaccines only protect against M. bovis, we have seen an increase in outbreaks within vaccinated herds," continued Dr. Shumaker.
To help fight challenging pinkeye outbreaks, Dr. Shumaker and Jen Iverson, bacteriology team leader at Newport Labs, share how veterinarians and producers can take advantage of advanced diagnostics to identify the exact species and strain of pinkeye bacteria that is infecting their herds.
Diagnostic samples
To start the diagnostics process, request a free Diagnostics Shipping Kit from Newport Labs that includes swabs and insulated shipping containers. For best results:
1)    Select the correct swabs
•    Utilize the proper swabs and sampling techniques to assure good diagnostic results
•    Use Amies Culturettes or single-tipped swabs with transport media for aerobic culture of Moxarella species
•    Use the Mycoplasma/viral swab to test for Mycoplasma species and viruses
2)    Collect the samples
•    Select animals with excessive tearing in early stages of infection, before antibiotic treatment
•    Swab inside the lower eyelid
•    Insert swab into transport media, break off end of swab stick and replace cap, refrigerate immediately
3)    Ship samples
•    Ship on ice in an insulated shipping container
•    Next day (overnight) shipping is preferred
Lab analysis
"Once samples are received from the lab, appropriate tests are run for each swab sample that is received," said Iverson.
Bacterial cultures that indicate the presence of M. bovis and M. bovoculi are completed within three to five days. An initial PCR test for Mycoplasma provides a quick indication of possible involvement. If present, this would be followed by a  Mycoplasma spp. culture which may take 10 or more days to complete due to the species' slow growth rate. Not only do these cultures show what species are present in a herd, but they can give veterinarians an idea of the growth characteristics (how fast the bacteria or virus is growing) and the intensity of the infection. This can help indicate the severity of the disease within a herd.
"After the diagnostics team is finished with isolating the bacteria, identifying and reporting results, a Newport Labs technical service veterinarian will consult the third-party veterinarian or producer to help them select the most appropriate solution for their herd," explained Iverson.
"Depending on the results, advanced diagnostics such as sequencing might be recommended," said Iverson.
Newport Labs utilizes advanced, proprietary molecular diagnostic techniques including multilocus sequence typing (MLST) and whole-genome sequencing to characterize and compare isolates. MLST technology represents a major advancement over the previous diagnostic process and provides increased resolution and a better assessment of genetic variation.
Whole-genome sequencing is also a powerful diagnostic tool that determines the genetic blueprint of an organism's DNA to help identify emerging pathogens, mutations and mixed infections. This process also assists scientists in discovering how pathogens overcome natural barriers to cause disease and how to stop them.
Herd-specific solutions
Advanced diagnostics provide veterinarians and producers the ability to tailor a custom-made vaccine to the specific disease strains within their operation, which can help fight the development and persistence of infections, while saving labor and treatment cost. If appropriate, multiple antigens can be combined in one custom-made vaccine.
Newport Labs has an extensive proprietary database of field-sample isolates that goes back more than 20 years.
"As the landscape of pinkeye continues to shift, it's important for us to keep our database updated and use technology to our advantage," said Dr. Shumaker.  "Our team consistently uses diagnostics and gene sequencing to cross-reference new isolates so we can update and address emerging strains within each new vaccine."
To learn how diagnostics could help solve your or your clients' herd-health challenges, or to request a free Diagnostics Shipping Kit to begin the process, contact your Boehringer Ingelheim representative or visit NewportLabs.com.
1 Loy JD, Brodersen BW. Moraxella spp. isolated from field outbreaks of infectious bovine keratoconjunctivitis: a retrospective study of case submissions from 2010 to 2013. J Vet Diagn Invest 2014;26(6):761–768.
©2020 Newport Laboratories, Inc., Worthington, MN. All rights reserved. US-BOV-0596-2020