Post Mortem Question: What is the diagnosis for this steer found dead at 85 days on feed?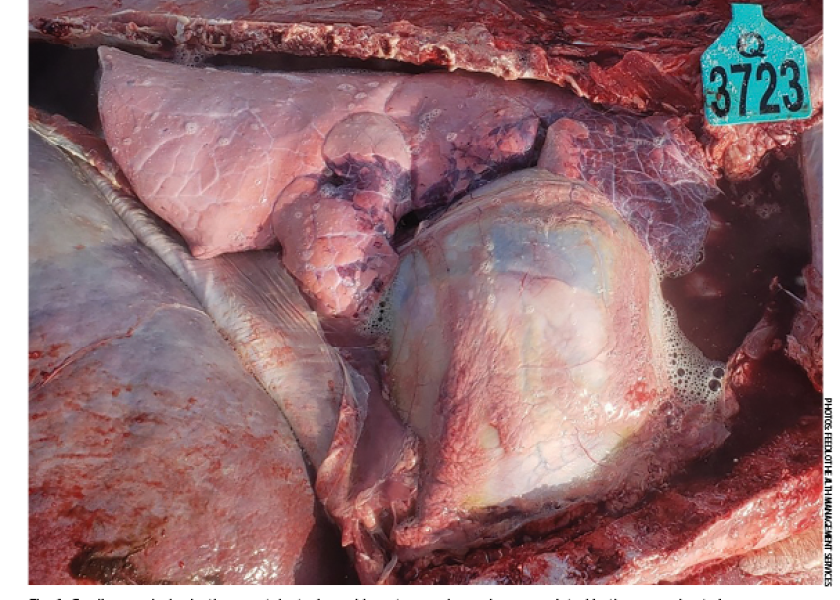 Pathogenesis:
The primary causes of alveolar hypoxia in cattle include high altitude disease and respiratory disease, whether alone or in combination.
In response to alveolar hypoxia, blood is shunted away from poorly oxygenated regions. Vascular remodeling and constriction occur with chronicity, leading to pulmonary hypertension and increased cardiac demand.
Inflammation and scarring of lung tissue from chronic respiratory disease can also lead to increased pulmonary hypertension and secondary CHF.
Right ventricular hypertrophy occurs in response to increased pulmonary hypertension, followed by right ventricular dilation and ultimately right-sided CHF.
Other causes of CHF include various toxicoses (monensin, swainsonine), traumatic reticulopericarditis,
pericarditis, pulmonary arterial obstruction due to embolic pneumonia, viral or bacterial myocarditis and valvular endocarditis.
Epidemiology:
There is evidence supporting genetic predisposition to hypoxia-induced pulmonary hypertension, especially in Bos taurus cattle.
Cattle that spend some, or all, of their life at high altitude are at greater risk of developing CHF compared to those that spend their entire lives at lower altitudes.
Cattle treated for BRD are two to three times more likely to die from CHF, though they might not be causally related.
Male feedlot cattle are disproportionately affected and have been shown to be up to twice as likely to die from CHF than females.
Congestive heart failure tends to occur later in the feeding period; however, this is likely confounded by age and body weight at placement and can occur at any time.
Ante-Mortem Clinical Signs:
Cases will often demonstrate significant ventral edema, colloquially referred to as brisket edema; however, not all cases develop brisket edema and some could be mistaken as having BRD.
Animals often stand in a characteristic base-wide "bulldog" stance with shoulders and elbows abducted.
Peripheral venous hypertension can result in exophthalmos, watery diarrhea as well as marked jugular distension and pulsation.
Animals with advanced heart failure are typically tachypneic, tachycardic and exercise intolerant.
Thoracic auscultation might reveal muffled heart sounds ventrally, a systolic cardiac murmur and/or a gallop rhythm.
Management:
Congestive heart failure is generally a sporadic and progressive disease. While some cases of underlying disease are able to be reversed, and salvage options can exist for more mild cases, animals with advanced CHF will not recover and should be humanely euthanized.
Researchers continue to investigate risk factors and genetic components that could eventually aid in developing prevention strategies.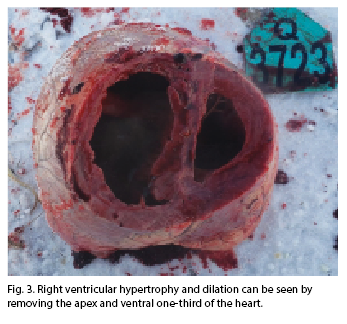 Post-Mortem Lesions:
Upon opening the carcass, ascites, hydrothorax and/or hydropericardium could be apparent with fluid that is minimally cellular and characteristic of cardiogenic transudate (Figure 1).
Mesenteric edema, as well as diffuse ventral subcutaneous edema, especially in the brisket, might also be present.
Examination of the heart often identifies right ventricular hypertrophy and/or dilation resulting in a globoid-shaped heart (Figures 2 and 3).
Hepatomegaly is a common finding, and the appearance of liver parenchyma can range from chronic passive congestion ("nutmeg liver," as in Figure 4) to severe lobular and vascular fibrosis.