What's Next for Animal Activism in 2021 and What Can We Do About It?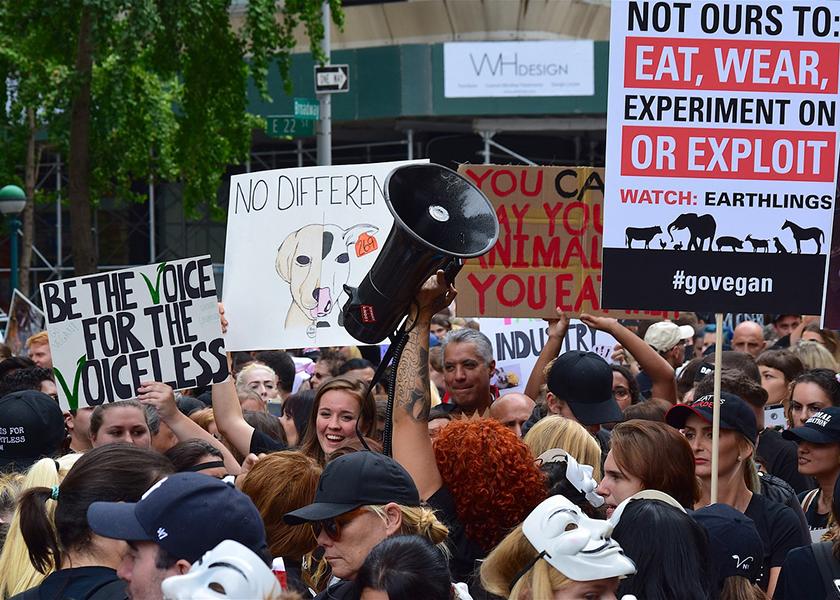 By Hannah Thompson-Weeman, Animal Agriculture Alliance
2020 has taken me so off guard that I am a little hesitant to even attempt to look into my crystal ball and make predictions for 2021. A year ago, I certainly would not have guessed that events and travel would come to a halt in March or that phrases like "mask up" or "social distancing" would be part of our daily conversations. As much as the past year has shown us that being flexible and adaptable is just as valuable as having thorough predictions and plans, I still believe there is merit to taking a moment to reflect on some of the trends we've seen this past year and consider how they may impact us moving forward.
The Animal Ag Alliance has remained focused on monitoring animal rights activism this year, and activist groups have not skipped a beat in their efforts to damage the reputation of animal agriculture. Some organizations believe the COVID-19 pandemic is the "tipping point" they need for their messages to go mainstream, and that concept combined with activists trying to take advantage of a new incoming administration means that 2021 could be an even more intense year for activism. 
I think we should all be preparing for a few continued trends:

•    Activist messaging involving public health and animal agriculture. Activist groups have long claimed that animal agriculture is a threat to public health and the COVID-19 pandemic has added fuel to that fire (despite there not really being any merit to attempting to tie the current outbreak to food production). Unfortunately, this narrative seems to be gaining steam with calls to "reform the food system" to prevent future pandemics. I think we are going to see more and more references to farms as "breeding grounds" for future disease outbreaks and should be focused on debunking that narrative.

•    Renewed focus on sustainability. Conversations about the environmental impact of animal agriculture took a backseat for much of 2020, but in the past few months that discussion is heating back up. Restaurant chains like Panera and Chipotle have announced new labeling programs to communicate the environmental footprint of their menu options and we're starting to hear more about the UN Food Systems Summit coming up in 2021 with an action track focused on "shifting to sustainable consumption patterns." The animal agriculture community will need to make sure we're continuing to communicate about our sustainability efforts as we settle into the "new normal." 

•    Large-scale protests and demonstrations, including at private homes. Activist groups seem to be upping the ante in terms of protests this year, likely believing that they need to be more and more extreme to get attention. We've seen continued protests (despite restrictions on gatherings) everywhere from farms and plants to public health offices, with some involving trespassing and interfering with daily operations. Animal rights activist organizations have also held several protests at the private homes of animal agriculture company and organization leaders, which is a troubling new trend. These continued incidents illustrate that we cannot let farm security slip down our priority list in 2021. 
Despite whatever challenges 2021 may bring, know that the Alliance team is here and has your back. Happy New Year!
Read more from Hannah Thompson-Weeman:
Things Animal Rights Activists Say: 2020 Edition
Activists Set Sights on 4-H and FFA Despite Fewer Fairs
Communication Strategy is Critical Part of Crisis Planning