USDA Blueprint Sets Goals for Animal Genome Research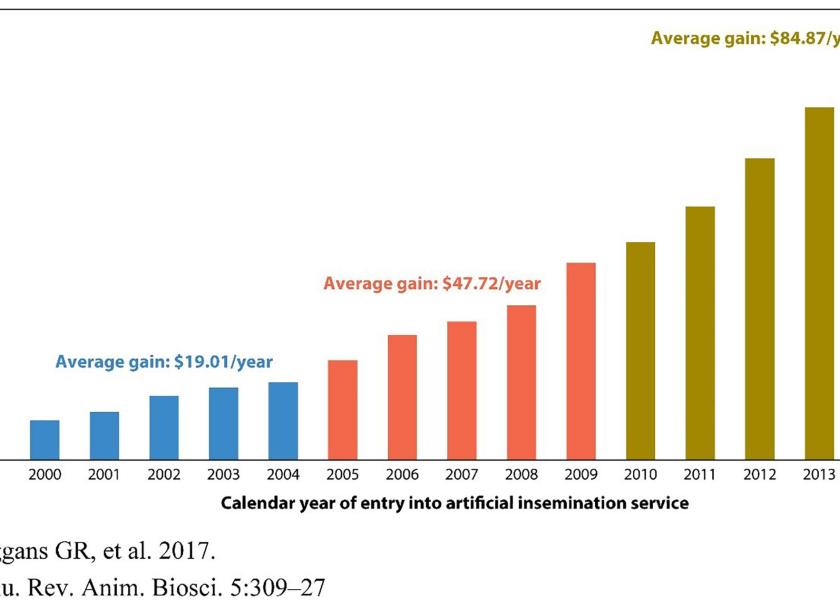 When a technology advances as quickly as genomics has in recent years, yesterday's goals begin to look like nostalgia. And a review of the dramatic progress in genomic-enhanced selection of livestock over the past decade, we see we've just scratched the surface of its potential.
Back in 2008, the USDA's Agricultural Research Service (ARS) and the National Institute for Food and Agriculture (NIFA) published the "Blueprint for USDA Efforts in Agricultural Animal Genomics 2008–2017," which served as a guiding document for research and funding in animal genomics. Since then, scientists have achieved many of the original goals, while some others require more research. Others dropped off the priority list as breakthroughs in science and technology revealed new paths of exploration and allowed pursuit of newer goals.
As the old blueprint expired, USDA hosted a scientific workshop in 2017 to update genomic research goals for the next decade. Recently, the consortium of scientists from USDA and several universities published their blueprint, titled "Genome to Phenome: Improving Animal Health, Production, and Well-Being – A New USDA Blueprint for Animal Genome Research 2018–2027," in the journal Frontiers in Genetics.
The authors note that the phrase "genome to phenome" describes the connection and causation between the genetic makeup of an animal (genome) and the totality of all phenotypes, or the observable physical or physiological traits or characteristics (phenome). For genomic tools to reach their full potential for improving animal productivity, they note, we will need a better understanding of the structure and function of animal genomes and how they interact with non-genetic components of production systems such as nutrition and environment.
Also over the past decade, gene-editing technologies have emerged with potential to facilitate identification of causal genetic variation and progress toward the understanding of genome biology needed to dramatically expand capacity to characterize and measure phenomes.
Like the earlier blueprint, the new plan focuses on three components of the overall research framework: science to practice, discovery science, and infrastructure.
Within that framework, the researchers identified specific research priorities and outlined how each can help address four overarching goals for animal production:
Providing Nutritious Food for a Growing Human Population
Feed the growing human population, encompassing global food security, improving rural economies and development, increasing productivity of agricultural enterprise and exports of agricultural products, and reducing trade deficits.
Improving Sustainability of Animal Agriculture
Improve environmental sustainability (reduce land and water usage, balance the use of antibiotics for animal health, and reduce greenhouse gas emissions), economic sustainability (consumer affordability and farmer profitability), and preserve germplasm and genetic diversity.
Increasing Animal Fitness and Improving Animal Welfare
Improve animal fitness through adaptation to local and regional conditions (e.g., altitude), biotic and abiotic stresses such as climate change, diseases and pests, and optimizing the microbiome.
Meeting Consumer Needs and Choices
Enable consumer choices such as cultural or traditional foods, healthy choices (lean and tender meat products), nutritional enhancements, and food raised through desired farming practices (i.e., organic, no antibiotics ever).
The research priorities include:
Implementing Genome Science into Animal Production

Optimizing Animal Production through Precision Breeding and Management

Understanding Genome Biology to Accelerate Genetic Improvement of Economically Important Traits

Reducing the Effects of Animal Diseases

Applying Precision Agriculture Technologies to Animal Phenotyping

Applying Precision Agriculture Technologies to Animal Phenotyping

Training the Next Generation of Animal Scientists

Developing Advanced Genomic Tools, Technologies, and Resources for Agricultural Animals

Creating Big Data Tools and Infrastructure for Animal Production

Advancing Biotechnology to Improve the Sustainability and Efficiency of Animal Production

Characterizing and Preserving Genetic Diversity for the Future of Animal Production
In their conclusions, the authors note that the 2008 Blueprint facilitated novel scientific discoveries, some of which were implemented into commercial production and led to returns that far exceeded investment costs. The 2018 Blueprint, they say, will "continue this trajectory based on new technologies, new insights into animal biology, and new genome-enabled strategies that improve various aspects of production. Ultimately, animal genome technologies will become part of mainstream agricultural production strategies used to improve animal health, well-being, production efficiency, and product quality in ways that meet the demands of growing global populations."
See the full report from Frontiers in Genetics.
For more on genomics and genetic technologies, see these articles from BovineVetOnline:
Learn About Genome Editing in Animals
BioGenome: Biology's Moonshot Benefits Ag Science