A State of Need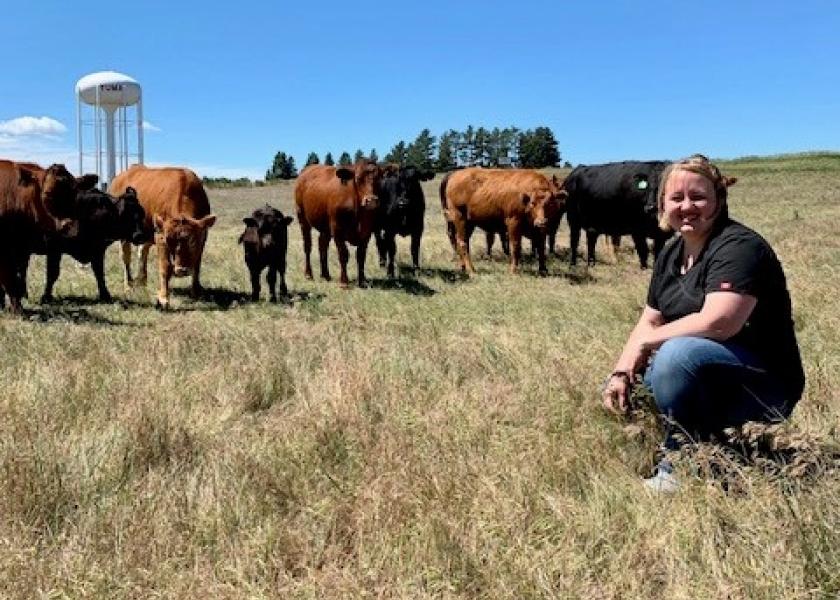 Rural veterinarians often practice well beyond the usual retirement age, in part because their clients still need them. Eventually though, they stow away their coveralls and, hopefully, pass the stethoscope to the next generation of practitioners.
The challenge arises when no one comes in to fill the retiring practitioner's rubber boots, leaving producers and local economies at risk.
Food-animal veterinary medicine faces two key human-resource challenges:
A shortage of veterinarians in some rural areas.

Burdensome debt for recent graduates entering practice.
Many of those recent DVM graduates would be happy to hang their shingle in a rural, underserved area, but they too-frequently pursue other opportunities, with greater income potential, to service their debts. The USDA's Veterinary Medicine Loan Repayment Program (VMLRP) helps place veterinarians in designated shortage areas, but in some states, the program's scope cannot fully meet demand.
In response, some states such as North Dakota and Colorado have developed their own programs for addressing shortages and debt issues.
Mark Stetter, DVM, Diplomate ACZM and Dean of Colorado State University's College of Veterinary Medicine and Biomedical Science, helped spearhead the Veterinary Education Loan Repayment Program (VELRP) in Colorado. Shortly after stepping into the Dean position in 2012, he hosted a series of listening sessions with the state's livestock associations and other stakeholders to learn about the needs and concerns of livestock producers. He quickly realized that farmers and ranchers were concerned about shortages of veterinary services, especially as they saw many rural veterinarians approaching retirement age. He also saw that as students cycled through the DVM program at CSU, a significant proportion of those initially planning for food-animal practice went to urban areas instead, often in pursuit of higher pay to service their student debts.
The university, with support from a coalition of stakeholders, began lobbying the state legislature, and developed bipartisan support for the program by demonstrating the need for veterinarians in rural communities and the impact veterinarians have on local economies.
"It would not have succeeded if we went straight to the legislature," Stetter says. "Forming key partnerships early and often made the difference."
A key goal of the program, Stetter says, is to encourage a long-term commitment from the veterinarians to the community. Toward that goal, Colorado structured the award such that recipients receive $10,000 in loan relief in their first year, $15,000 the second year, and $25,000 the third and fourth years. The total award of $75,000 equals half the average debt load of $150,000 for DVM graduates.
Stetter says the organizers spent considerable time discussing the plan with livestock organizations and community leaders from around the state, building a coalition of support. Then they identified key legislators – from both parties – to advance the proposal and secure funding.
For other states considering a similar program, Stetter recommends first building a coalition of stakeholders from across the state, including producers and community leaders who can address the economic importance of veterinary services in rural communities. Then, take the proposal to the legislature's agricultural committee to gain support from members who can advance the proposal and, importantly, secure funding through state appropriations.
Ashley Stokes, DVM, PhD, MBA, serves as Assistant Vice President for Engagement and Deputy Director of Extension at CSU, and helped initiate the Colorado VELRP. "We got the legislation passed and appropriated, and now have two veterinarians taking advantage of our state VELRP," she says. "We hope to grow the number in the near future, but it is a great start." She emphasizes the importance of partnerships between the CSU veterinary school, CSU Extension, the Colorado Veterinary Medical Association, the Colorado Agricultural Council, the Colorado Department of Agriculture and state legislators who sponsored the bill. 
Stokes stresses that the Colorado group consulted closely with program coordinators in North Dakota to draw on their experiences in launching a state-sponsored VELRP. "Their sustained success with the North Dakota program is a testament to their hard work and the many veterinary and livestock partners across their state that collaborate in many ways with them," she says. "Another fantastic aspect of their program is the commitment that communities express as part of the process to select program recipients. They truly understand and emphasize the community element in the success of their VMLRP."
North Dakota Serves as a Model
Beth W. Carlson, DVM, Deputy State Veterinarian with the North Dakota Department of Agriculture, says their program gained legislative approval in 2007, and selected its first class of grant recipients in 2008. Since then, the program has funded three recent DVM graduates each year, and four one year.
The law specifies, Carlson says, that selected veterinarians must provide food-animal services in a rural area. Beyond that, specific placement details can vary depending on recommendations from the state's Board of Animal Health, submitted to the North Dakota State Health Council.
While the program remains flexible in selecting areas of need, evidence of community support plays a role in placement decisions, Carlson says. For example, livestock auction facilities in many North Dakota communities indicate they lack adequate veterinary support to keep up with health inspections. When they express that need, the program places a priority on selecting a veterinarian who is willing to dedicate some of their time to working the auction facility.
Income potential remains a challenge for rural practices, but many rural veterinarians earn competitive salaries, but also work long and irregular hours compared with their urban, general-practice counterparts.
As in Colorado, legislative support was critical, and Carlson says North Dakota benefitted by having several key legislators with agricultural backgrounds who recognized the critical roles veterinarians play in rural communities. With strong backing from the North Dakota Department of Agriculture, the state veterinary association, livestock producer groups, and other stakeholders, legislators were able to advance the program and, importantly, secure state funding to support it.
Stakeholder groups also participated in developing the scoring and selection process for awarding applicants.
Like many new programs, organizers recognized some gaps to address. For example, Carlson says, the program initially gave preference to veterinarians who had not received other financial support from the state. But because North Dakota does not have a veterinary school, the state offers a Professional Student Exchange program and has an additional specific agreement with Kansas State University.  These programs provide tuition assistance for North Dakota students pursuing DVM degrees in other states. That resulted in some bias against native North Dakotans, and favor toward out-of-state applicants, who could be less likely to remain in their practice locations over the long term.
Also, Carlson says, the program provides funding for three veterinarians per year, and initially, if a selected applicant turned down the offer, there was no option to select a different applicant.  At the request of program administrators, the legislature addressed these issues and the program now places more emphasis on each applicant's food animal training and commitment to the community. A veterinarian's application may be enhanced, Carlson says, if he or she already practices in a community of need or if they have done an externship in the area. In this respect, Carlson says "the program may act as both a retention tool and a recruitment tool."
Home on the range
Colorado funded its first two VELRP recipients in 2018, Catherine "Callie" Kuntz, DVM, and Kayle Austin, DVM, who both practice on the state's Eastern Plains.
Growing up in San Antonio, Texas, Kuntz could not have imagined settling on the rural, wind-swept plains of northeastern Colorado. She loved working with animals though, and enrolled at Colorado State University, majoring in equine science with a goal of attending veterinary school. "When I took a class in food animal science, I was hooked," she says. "I added my second major of Animal Science and continued to focus on my pre-veterinary education. The primary experience that solidified my decision to be a rural, mixed animal veterinarian was when I interned at CSU's Beef Improvement Center in Saratoga, WY. While at the ranch, I learned many aspects of cow-calf production. After this, I knew my calling was to help fill the veterinarian shortage as a rural, mixed animal practitioner."
Once accepted into the CSU veterinary program, Kuntz focused on livestock medicine, and following graduation in 2017 joined a mixed-animal practice in McCook, Nebraska. Soon though, the stars aligned when Colorado launched its VELRP and a practice opportunity emerged in Yuma, Colo. Dr. Tom Parks owned a mixed practice in Yuma, but was ready to retire and sell the practice. Kuntz applied for the VELRP, knowing the Yuma area faced a shortage of veterinary services.
The program, she says, provided enough financial security for Kuntz to purchase the practice while Dr. Parks mentored her through the transition.
Colorado's VELRP, she says, offers more flexibility than the federal program in how recent graduates are matched to areas of need. Applicants for the Colorado program can specify where they intend to practice, while the state veterinarian determines whether the location qualifies as an area of need.
Dr. Kayle Austin, also a 2017 graduate from CSU's veterinary school, grew up in rural Southeastern Colorado on her family's ranching operation, and then began her collegiate studies at Northeastern Junior College in Sterling, Colo., which is now the area she serves.  She then went on to CSU for undergraduate animal sciences and veterinary studies, where she also was herd manager for a local dairy operation in north central Colorado for several years. 
Austin initially joined a large animal practice in Brush immediately following graduation, in northeastern Colorado, serving the many feedyards and dairies in the area. After about 18 months, she saw an opportunity to develop a mobile, large-animal practice in the Greeley area while also applying for the state's VELRP. Austin provides mobile and in-house services for livestock species and routine equine and small animal care for her livestock clientele. The USDA, she says, designates most of Eastern Colorado as an area of need for the federal VMLRP, so the state program allows applicants some flexibility in specifying their practice location. 
As a prerequisite for the program, intention to practice food-animal medicine outweighs the specific location of the applicant's practice, she says.  Austin was already established in north central and northeastern Colorado, so she applied for this area of the program as she commutes across state to serve multiple counties.  She attributes her success to having grown up in rural southeastern Colorado on her family's ranching operation, and having had great mentorship in animal sciences from attending both Northeastern Junior College in Sterling, CO, and CSU.  "Going back into the community I grew up in to work with farmers and ranchers was my goal from the beginning, and I am thankful to be able to do that with the help of this program."
Building support and funding for the program in Colorado required a coalition involving CSU, the state legislature, business leaders and, importantly, producers. The state "listened to producers," she says, as they evaluated the role of veterinary services in the rural economy.
Producers in her area, mostly smaller beef-cattle operations, have worried as they've watched older veterinarians retire from practice with no one in line to take over. A lot of things had to go right for the program to succeed, she says, and the support from across multiple stakeholder groups made it possible.
Stokes agrees, saying that in the Colorado and North Dakota programs, affected communities have to show their support of the candidates "This is critical in our opinion, since we want to ensure that rural veterinarians are receiving such support and feel valued by the communities they serve. It is also important for communities to know that as a state, we value their community by committing funds for up to four years for animal health."
Learn more about the Colorado program at velrp.colostate.edu, and the North Dakota program at ndvma.com.
For more on veterinary student debt and shortages of rural veterinarians, see these articles on BovineVetOnline.com
Strong outlook for food-animal vets
Readers Respond: Recruiting Rural Veterinarians
NIFA Awards Nearly $10 Million to Address Veterinary Shortages