AABP Opens Registration for 2019 Annual Conference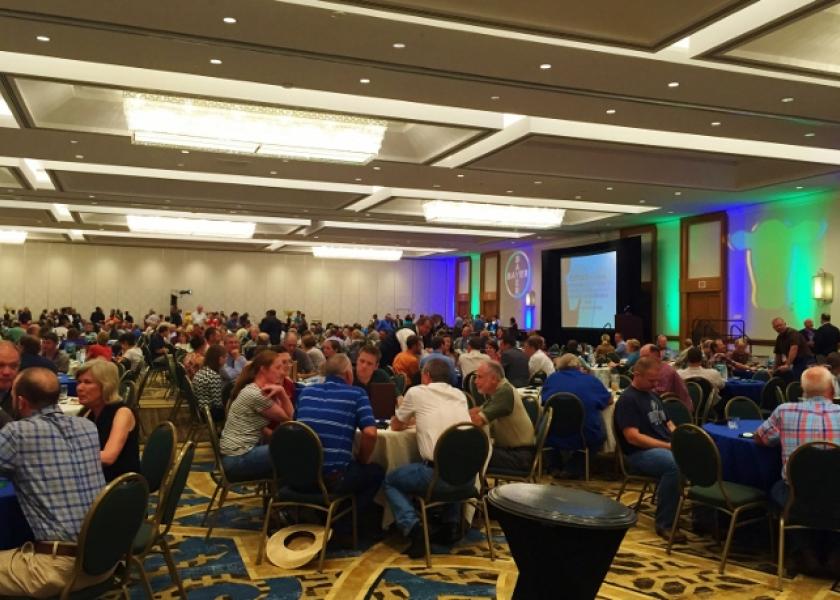 Beef and dairy veterinarians from across the United States, Canada and other countries will gather in the Gateway City to get the latest information in on bovine medicine and practice at the 2019 52nd American Association of Bovine Practitioners (AABP) Annual Conference Sept. 12-14 in St. Louis, Mo. Registration is now open on the AABP website under the Conference tab. A digital version of the printed program can be found here.
AABP President-Elect and 2019 Program Chairman, Dr. Calvin Booker, says the theme "Gateway to Success" focuses on topics and speakers that will help AABP members be successful in their veterinary practices, professional careers, and personal lives. "We are extremely excited about having one of our own members, Iowa State University College of Veterinary Medicine Dean Dr. Dan Grooms, share his thoughts and experiences on what success really means in this year's keynote address," Booker says.
Scientific sessions at the conference will include cutting-edge information on bovine medicine and health, practice management, preconference seminars, research summaries and poster sessions, student/new graduate sessions and more.
"New for this year we have included three full sessions devoted to clinical skills, a number of 30-minute presentation slots, and an interactive texting app to ask and prioritize questions, as well as receive immediate feedback/reviews," Booker adds. Ten limited enrollment Clinical Forums will be hosted by experts in an informal, small-group environment to allow for one-on-one interaction for maximum benefit, and the always popular Practice Tips session will entertain and enlighten attendees. In addition, the American Association of Small Ruminant Practitioners and the National Mastitis Council will meet jointly with AABP.
For those seeking in-depth training, the AABP Preconference Seminar schedule is filled with 17 courses to provide members with a variety of opportunities to focus their continued education in specific areas. "We are excited to offer eight new preconference seminars that include topics from genomics, technology, small-ruminant nutrition and even a hands-on euthanasia seminar," explains AABP Vice President and Preconference Seminar Chair Dr. Carie Telgen. "There is a great mix of beef, dairy and general bovine topics with various price points to attract many different practitioners."  
Students will play a large part in the conference with student sessions, the 10th annual Quiz Bowl, student case competition and scholarship awards.
In addition to the CE which has been submitted for RACE approval, the AABP conference offers entertainment, tours, awards for members, over 100 exhibitors in the trade show, honoring of the 2019 Cattle Production Veterinarian Hall of Fame inductees, the 12th annual Job Fair, the 10th Amstutz Live and Silent auctions, and the 7th 5K Stampede Fun Run.
"With a great program line up and seemingly endless opportunities for networking and fellowship, you won't want to miss joining your fellow bovine practitioners at the 'Gateway to Success' AABP Annual Conference in St. Louis," Booker says.
AABP is a membership-based, not-for-profit organization serving over 5,000 cattle veterinary medicine professionals across the United States, Canada and other countries. Visit https://aabp.org and like us on Facebook.
For more about AABP's conferences and educational opportunities, see these articles from BovineVetOnline:
AABP: The Baxter Black Perspective
AABP Meets New Challenges for 2019
AABP Recent Veterinary Graduate Conference Continues to Inspire