Zinpro Corporation Releases First Step App for Dairy Industry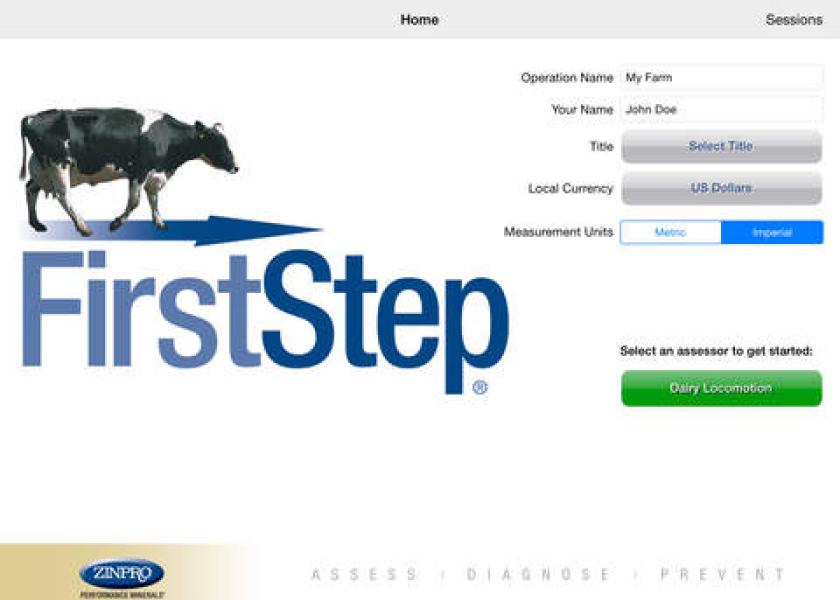 Zinpro Corporation recently announced the launch of its First Step App, a new educational resource for the dairy industry. The app features a locomotion scoring assessor to help track locomotion scores and estimate the cost of lameness in dairy cattle.
This represents the first industry-wide release of a digital application from the desktop version of Zinpro's well-regarded First Step dairy lameness assessment and prevention program. Developed by Zinpro Corporation, in conjunction with Dr. Nigel Cook from the University of Wisconsin – School of Veterinary Medicine, the First Step Program provides the industry's most comprehensive assessment of overall lameness risk factors on a dairy to help manage and prevent cattle lameness.
By its own standard, the locomotion scoring system (Sprecher et al., 1997) built into First Step is a simple and useful tool to help improve dairy cattle lameness recognition. It uses a 1-to-5 scale and is based upon observations taken while the cow is standing and walking (gait), with a special emphasis on the cow's back posture. Through the use of locomotion scoring, dairy producers can assess the incidence and severity of lameness within their herd.
Now available for iPad devices through iTunes, the new First Step App includes:
• Easy-to-use scoring pad – track locomotion scores within a herd quickly and efficiently directly on your iPad.
• Economic analysis – use the economic calculator, in conjunction with locomotion scoring, to help determine an extra profit potential your herd may achieve by reducing lameness prevalence.
• Save, reference and send locomotion scoring records – assessments can be saved, sent by email and referenced over time to measure a lameness prevention program's effectiveness.
• Add comments and photos to reports – add images and comments to your assessment reports to identify cows requiring follow-up or potential opportunities for improvement within a facility. This can help raise awareness with dairy managers, aiding in their decision-making process.
• Locomotion scoring training videos – learn how to locomotion score dairy cattle.
"Lameness control is vital to dairy farm profitability because it essentially affects everything that a cow does in a given day," said Dr. Daryl Kleinschmit, research nutritionist, Zinpro Corporation. "Estimates show that each case of clinical lameness costs a dairy producer about $350 due to decreased milk production and fertility, treatment and labor costs, and early culling."
Given the economic conditions of today's dairy industry, even seemingly minor changes in the average locomotion score can result in significant profit potential. "With our new First Step App, featuring a locomotion scoring assessor, we're making it more convenient for producers to track locomotion scores and calculate the related cost of lameness in their herd," Kleinschmit noted.
Dairy personnel should score cows that are standing and walking on a flat, level surface which provides adequate traction. Animals should walk naturally and not run when being scored. An ideal location for locomotion scoring is in return alleys following milking. By identifying even slight back arching, personnel may be able to catch lameness in its initial stage and treat it before more serious lesions develop.
You can learn more about locomotion scoring dairy cattle by downloading the First Step App, contacting your Zinpro representative or visiting the First Step video library at zinpro.com. Educational posters for dairy cattle locomotion scoring and lesion identification are available upon request from Zinpro Corporation.

Source: Zinpro Corporation