New Products: Timesaving Grapple
Timesaving Grapple Twist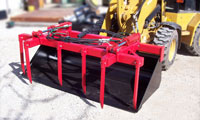 Fritsch Equipment's PushAway grapple, for unloading Ag-Bag type feed storage, allows the loader to leave with a full bucket of haylage in under 10 seconds. When the heavy-duty hydraulic cylinders reach the end of their stroke, an adjustable hydraulic valve automatically activates a second set of cylinders, pushing the loader away from the pile with 12 tons of force.

Because the bucket is full, only half the trips to the bag are necessary. Using the grapple instead of pushing a bucket into the feed means you don't spin in the mud or on plastic, which reduces ruts and saves time. The replaceable hardened teeth will penetrate tough haylage and grasses. Adjustable-width grapples can be added to any size bucket or purchased with a bucket. Price: $3,100 for grapple without bucket. Contact: Fritsch Equipment Corp., 6229 Hwy. 57, De Pere, WI 54115; (920) 532-6292; www.fritschequipment.com.
---
Keep on Cuttin'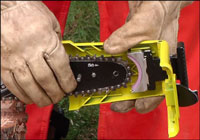 The PowerSharp system from Blount, Inc., lets chainsaw users sharpen dull chain in 3 to 5 seconds. The system, part of the company's Oregon brand, includes the PowerSharp chain, bar-mount sharpener and guide bar for a fast, simple and portable method for sharpening saw chain with precision. The system is available in a variety of configurations and fits most saws on the market, as well as models already in use. PowerSharp is available in home improvement stores, hardware retailers and servicing dealers. Price: The PowerSharp starter kit (all components in one package), sells at a manufacturer's suggested retail price of $75 to $80. The chain and sharpening stone packaged together are $35 to $37 and the bar-mount sharpener and guide bar packaged together are $40 to $43. Contact: Blount International, Inc., 4909 SE International Way, Portland, OR 97222; (503) 653-8881; www.powersharp.com.
---
Cut LCD Glare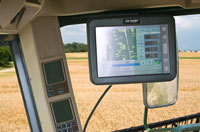 DayVue anti-reflective film from NuShield is made for electronic devices with LCD displays that are used for precision farming operations. Combining anti-reflective technology and superior scratch resistance, DayVue is ideally suited for times when sun glare or reflections interfere with the clear visibility of the LCD screen in the cab. The film provides brightness enhancement and high contrast, and the anti-reflective effect makes the screen easy to see. Users can wear sunglasses or look at the device from an angle and still read the display. DayVue is made of super-thin, durable plastic that provides extended protection against dust and gouges. The film filters out 99% of UV light from reaching the screen or reflecting back to the eyes. An adhesive backing allows for installation in seconds, and no residue is left when removed. The film can be cleaned normally and will stand up to the harshest environments. DayVue is currently available for electronic devices manufactured by John Deere for the GreenStar system and Ag Leader Insight and Edge devices; testing is under way for Trimble devices. Price: $25.50. Contact: NuShield, Inc., 2865 S. Eagle Rd., #400, Newtown, PA 18940; toll-free (877) 900-9192; www.nushield.com.