U.S. Cattle Producers Announce Initiatives to Answer Consumer Demands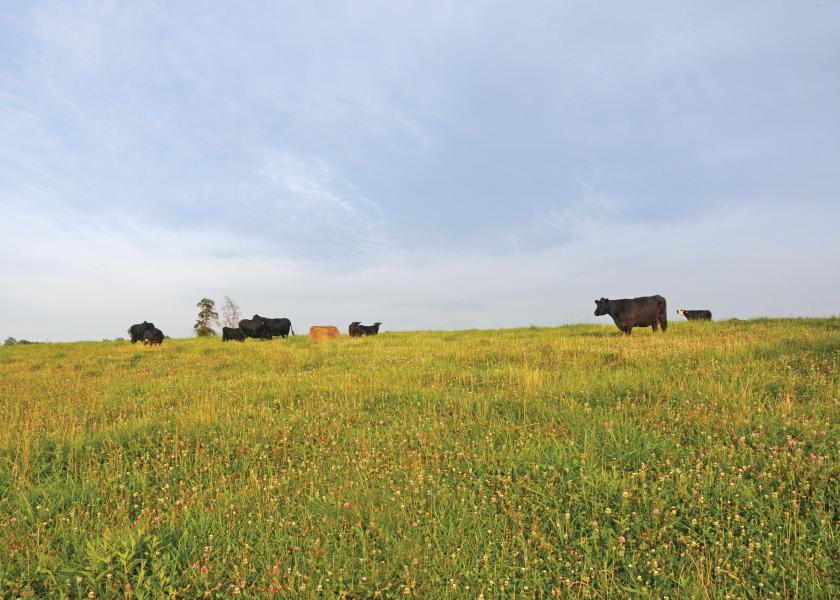 From gate to plate, consumers are increasingly seeking beef with a story — and paying for it. National Beef Quality Audits have identified "where and how cattle were raised" as a key attribute for a decade, and major food companies have launched broad programs to satisfy that desire.
 
Now, cattle producers in the U.S. are responding with more initiatives to answer consumer demands for more transparency around animal welfare, traceability and sustainability.
The National Cattlemen's Beef Association (NCBA) announced their plan to address beef sustainability and solidify their commitment to environmental, economic and social sustainability for the U.S. Cattle Industry. The announcement came during the NCBA general session, "Sustainability — Opportunity, or a Bunch of Bull?"  
Marty Smith, 2021 NCBA Past President, a rancher and an attorney from Wacahoota, Fla., announced goals focused on four critical areas:
• Demonstrate climate neutrality of U.S. cattle production by 2040. Create and enhance opportunities that result in a quantifiable increase in producer profitability and economic sustainability by 2025.    
• Enhance trust in cattle producers as responsible stewards of their animals and resources by expanding educational opportunities in animal care and handling programs to further improve animal well-being.  
• Continuously improve our industry's workforce safety and well-being.  
The framework for the program was developed by the Sustainability Goals Task Force, a committee made up of cattle producers nominated from 17 states. Smith says the committee was formed of aggressive and opinionated cattle producers who pushed hard to create a position that demonstrated leadership for the industry.
Ashley McDonald, senior director of sustainability for National Cattleman's Beef Association, spoke about the initiative with "AgDay's" Clinton Griffiths. "One thing that's really important is it's not just about a climate goal, an environmental goal, it's not even the economic goal. It's about all of them, because sustainability truly is a balancing act between everything that we do," McDonald says. "And we hope to convey that the decisions that producers make on their farms and ranches, every day, are extremely complex."
Social Sustainability: What Consumers (Don't) Know
Sustainability is a complex topic, and one reason for that is because people have different values. During a presentation at the 2021 Alltech ONE Ideas Conference, Sara Place, chief sustainability officer at Elanco, addressed sustainability and beef production.
"One person may prioritize animal welfare above an environmental footprint; another may prioritize the affordability of food above all other issues," Place says. "It's not that one person is right or wrong, it's just the reality that this is the challenge we're dealing with in a pluralistic society when it comes to sustainability."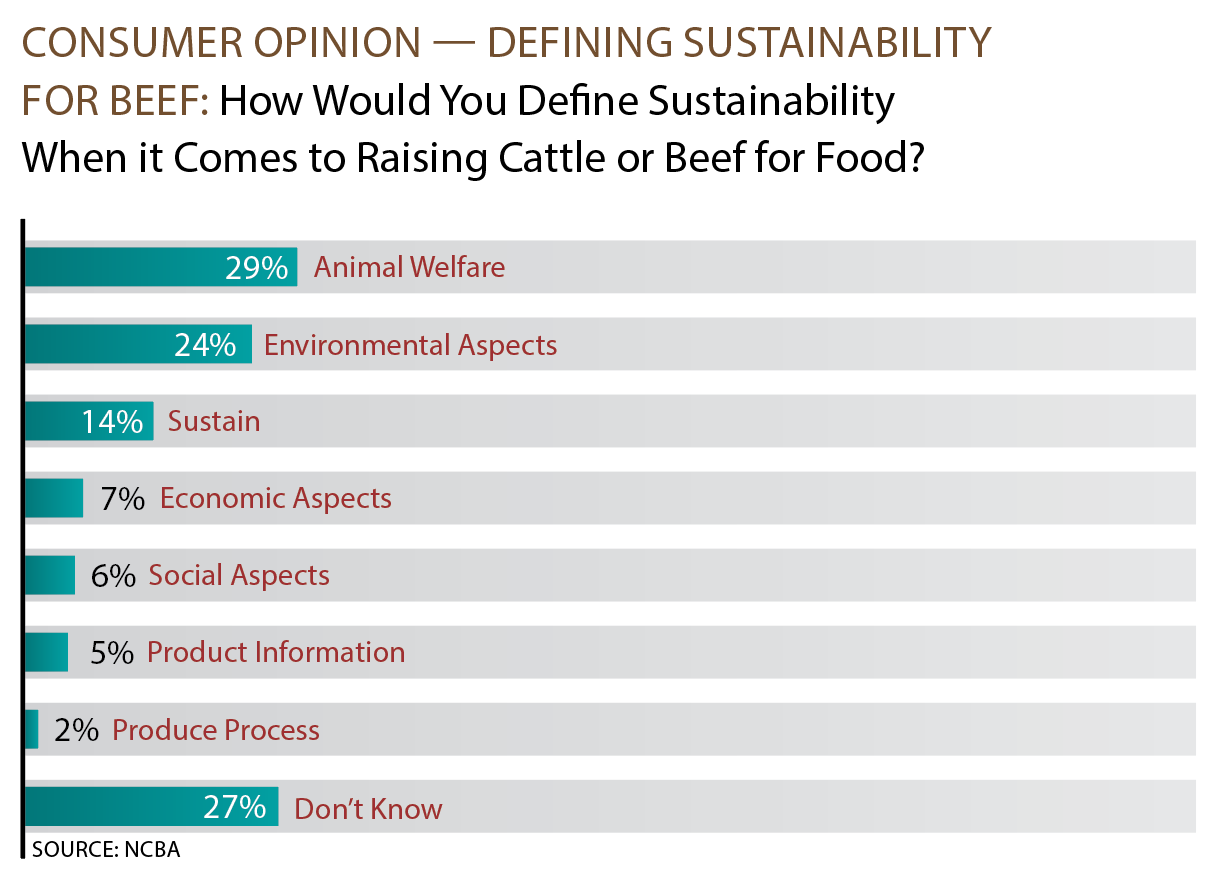 Shawn Darcy, senior director of market research at National Cattlemen's Beef Association, shared some data insights to uncover gaps in consumers' knowledge about how their food is produced.
While issues of animal welfare are growing in importance to consumers, their top considerations about proteins are still issues like taste, safety and value. The good news: 62% say they find cattle producers very credible. There's room for cattle producers to take control of the story.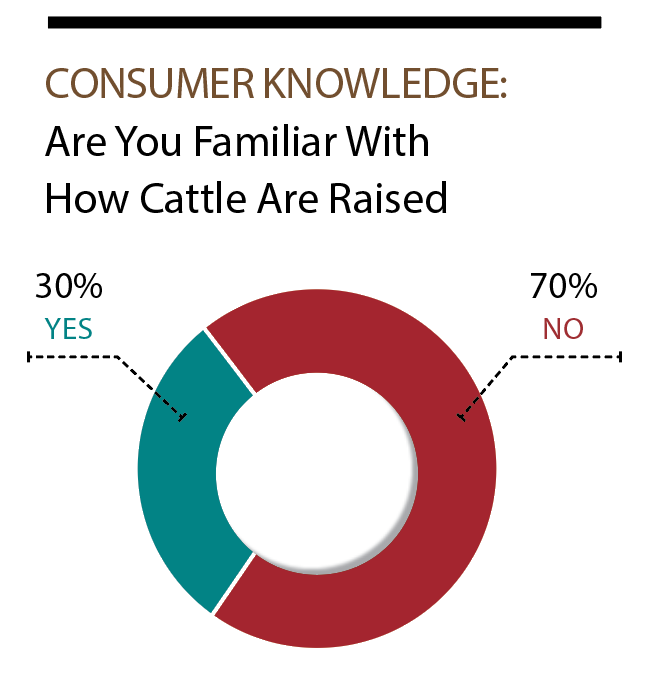 Environmental Sustainability: Many Paths to Climate Neutrality in 2040
Programs such as Progressive Beef are also positioning themselves to demonstrate leadership in sustainability.
"Our commitment to social responsibility inspired us to create and apply meaningful metrics to internationally recognized sustainability indicators such as animal welfare, antibiotic use, efficient use of natural resources and employee safety. Internal and certification audits also create multiple layers of accountability to transform knowledge into continuous improvement," says Heather Donley, vice president of operations at Progressive Beef.
The three pillars of NCBA's announcement start with the foundation that cattle production must be financially sustainable for producers, and when producers can achieve economic sustainability, it feeds their environmental and social sustainability goals, says Jason Sawyer, associate professor and research scientist with King Ranch Institute for Ranch Management with Texas A&M — Kingsville. Sawyer spoke about the relationship between the three pillars.
Sawyer outlined multiple plans, emphasizing there are at least three paths with one aggressive and a couple moderate efforts that will lead to climate neutrality.
Economic Sustainability: Demand
David Norton, president of Sysco's Specialty Meat Service, and Kristine Richmond, head of sustainability and ESG, with Darden, a company that owns restaurants such as Capital Grille and Longhorn Steakhouse, expressed appreciation for livestock producers and the essential role they play feeding the world.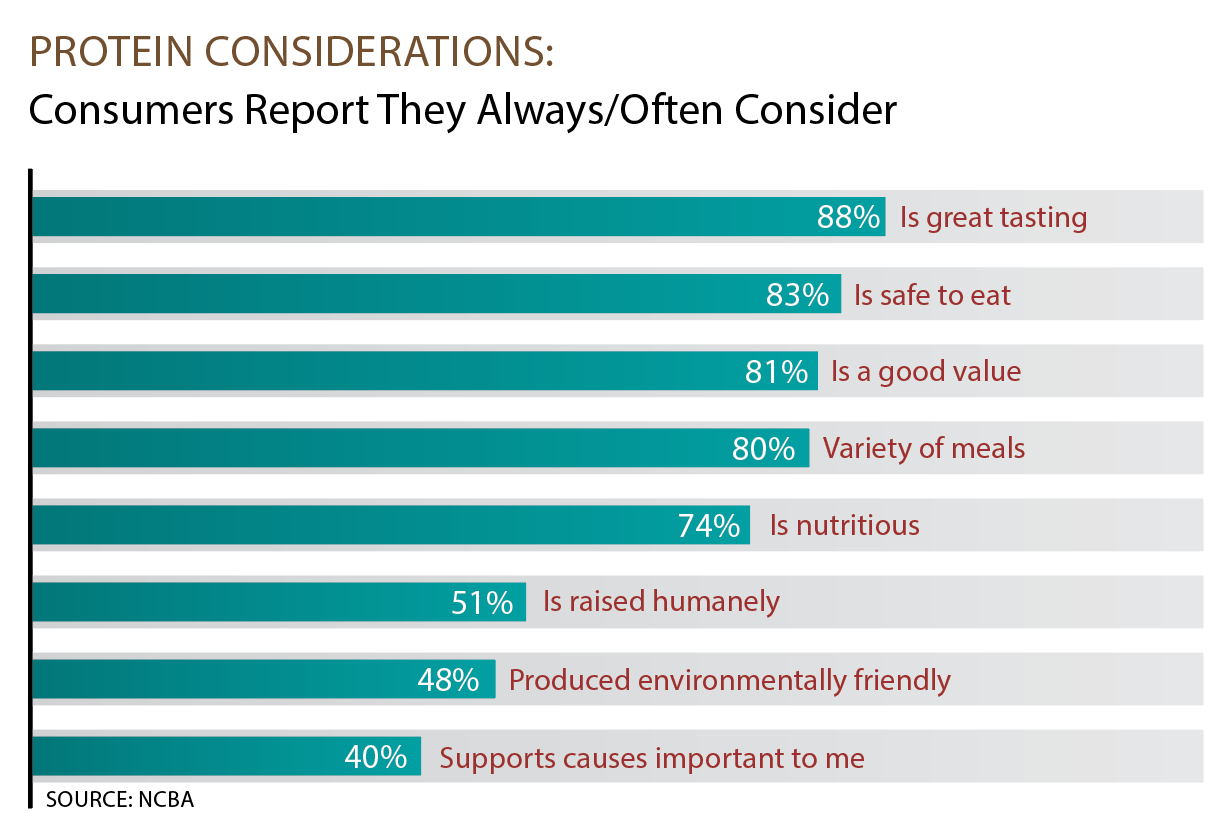 "The demand for beef continues to walk through our front doors," Richmond says, explaining restaurant sales this year were 14% above pre-pandemic levels.
Norton says while he appreciates how producers have come to the table to demonstrate stewardship
and sustainability, it is now time for corporations to step up.
"We've got to make sure we're part of the solution," Norton says. "We are with you."