Study Illustrates Impact of Animal Health Industry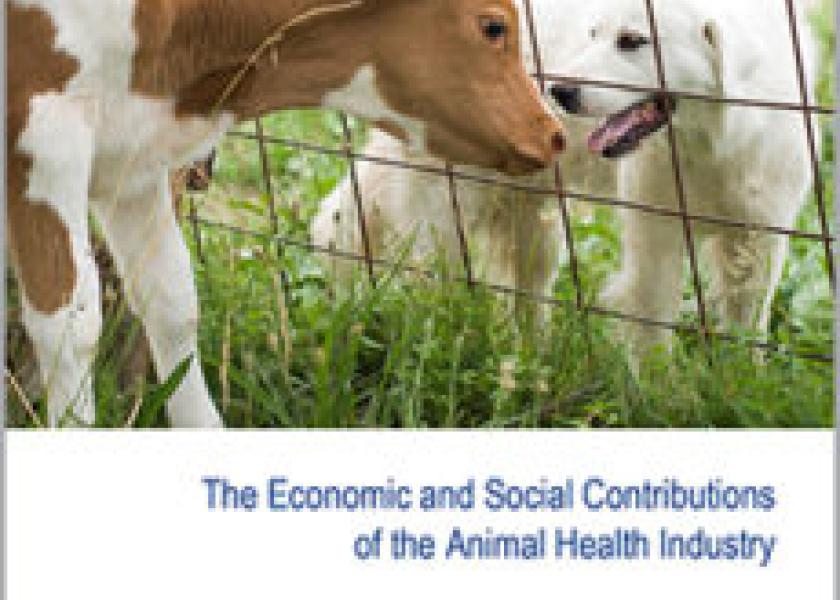 Protecting and improving the health of nearly 10 billion food animals and companion animals in the United States, and many more around the world, supports over 1 million jobs and generates billions in revenue and taxes. And the benefits extend beyond those measured in dollars, with food security, human health and social benefits of animals contributing dramatically to our quality of life.
Results of a new study, titled "The Economic and Social Contributions of the Animal Health Industry," illustrate those direct and indirect benefits. The Animal Health Institute funded the study, which was conducted by the research firm ndp Analytics.
The U.S. animal health industry only makes up about 2% of the total U.S. pharmaceutical market, with animal-health products generating about $9.9 billion in annual sales compared with $450 billion for human medicines. An within the U.S. animal-health market, products for companion animals account for around 60% of sales while those for food animals account for 40%.
In food animals though, animal health products help protect an agricultural industry that employs 21 million workers and generates almost $1 trillion in economic activity.  In 2015, U.S farmers and ranchers raised over 9 billion animals, valued at $180 billion.
The report notes that the animal-health industry produces three types of medicine: pharmaceuticals, biologics, which are predominately vaccines, and flea and tick medications. Pharmaceuticals account for more than half of sales. Flea and tick medications make up about 29% of the industry while biologics account for just over 19%.
Animal health manufacturers invest an average of 8.5% of sales in research and development, 2.5 times that of the overall U.S. manufacturing average of 3.4%, according to the authors. In 2016, that added up to R&D investment averaging $45,695 per worker in animal health compared to $15,520 in the total manufacturing sector.
Veterinary services are a critical component of the U.S. animal-health industry. Of the 359,103 workers employed in veterinary services, 79,600, or 22.2% are veterinarians, with technical and administrative staff accounting for the rest. In total, the veterinary services sector pays $13.4 billion in wages annually and generates $41.5 billion in output. Nearly two-thirds of this output is generated by routine and emergency services for domestic pets.
Other key findings in the report include:
Direct Economic Impact: In 2016, the U.S. animal health industry produced $11.4 billion of medicine.
With exports of over $2.4 billion and imports of $900 million, total sales to U.S. consumers totaled $9.9 billion.
The industry employed 21,257 workers and paid over $1.2 billion in wages and $1.2 billion in taxes.
The animal health industry invested over $970 million in research and development in 2016.
Animal health products contribute to the economic activity of other industries including veterinary services, animal production, meat and dairy production, and pet services. Combined, these four industries generated $548 billion in output, created over 1.3 million jobs, and paid $52 billion in wages in 2016.
Animal health products advance public health. Vaccines have improved food safety and availability by reducing disease outbreaks in food-producing animals and reducing instances of foodborne illnesses. In companion animals, vaccines have kept animals and their human families safe from health issues such as rabies while flea and tick products reduce human exposure to pests carrying Lyme disease.
Healthy animals improve human mental and physical wellbeing. Animal-assisted therapy reduces anxiety and depression and improves cardiovascular health by reducing the risk of heart disease or a heart attack. Also, discoveries in animal health research can be applied to human health research to advance the development of new cures.
Read the full report from the Animal Health Institute.