2021 Beef Outlook: New Challenges, New Opportunities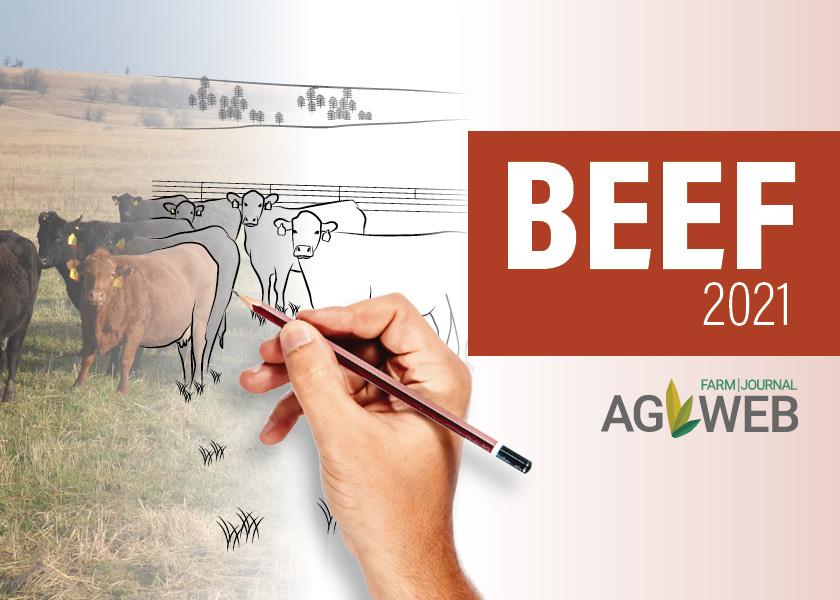 Disruptions to the beef industry from the COVID-19 pandemic will likely linger into 2021, but the result may not be all bad. That's the assessment of Don Close, senior animal protein analyst at Rabo AgriFinance.
"We are set up for an incredibly interesting, but challenging year," Close told AgriTalk host Chip Flory Wednesday, Dec. 9. "We have a large inventory of cattle in place for the first and early second quarter (of 2021). But because of the contraction in cow inventory we've had for each of the previous two years, the calf crop going forward is smaller."
Close said that lower inventory of calves from 2019 and 2020 will show up in on-feed inventories beginning in late-spring of 2021. That will result in some counter-seasonal prices for fed cattle.
"I think it's likely the October (2020) cattle on feed number will be the largest on-feed inventory we see for the next several years," Close said. "We could be setup for a counter-seasonal year where we don't see the highest prices (for fed cattle) in March and April. As fed cattle supplies tighten (in 2021), we could actually see third and fourth quarter (2021) prices exceed our second quarter highs."
For cow-calf producers, Close said the smaller supplies of feeder cattle will support prices, but his biggest concern is the expanding drought conditions across the western United Sates that he believes will "further accelerate the liquidation of cows. I'm not sure that's all bad, because it will get us to the bottom of this cycle in the market faster."
Flory noted the coronavirus pandemic caused major disruptions to the meat packing sector, notably from lant closures and slowdowns that created a "backlog" of cattle in feedyards. He asked Close if there remains a supply hangover.
"In May (the industry believed) there was one million head of fed cattle backlogged," Close said. "I agree with that assessment, but by September and October that backlog was pretty well resolved. But, we have a second wave we're going to have to deal with."
The second wave of cattle was created by the backlog of cattle outside of feedyards at the time the pandemic hit that were delayed going on feed. Close said those cattle showed up in heavy placement numbers from June through September and resulted in a record number of cattle on feed in USDA's October 1 report.
"That will be our fed cattle supply from late December and working through the first quarter and into the second quarter of 2021," Close said.
Flory asked Close if he foresees a repeat performance ahead similar to the disruptions at experienced by packing plants at the outset of the pandemic.
"It won't be anything nearly as disruptive as it was the first time (if it occurs)," Close said. "The reasons are that packers have the PPE equipment in place, and in the aggregate we know so much more about handling the disease and how it spreads than what we knew initially. Also, the packing plants have made adaptations – monitoring staff, taking employees out of high-risk situations, etc."
The North American Meat Institute says the packing industry has spent over $1 billion on equipment and alterations in response to COVID-19, and Close believes that takes a degree of risk out of the fed cattle market for cattle feeders.
"We're still dealing with a degree of uncertainty, but if you look at this entire stay at-home period, beef demand has been incredibly good, in part because of the increase in disposable income," Close said.
The pandemic shuttered many restaurants, but it also drove consumers to buy more beef at retail and many consumers increased their home cooking skills. Close said while that demand shifted from food service to retail, many consumers found they had more disposable income. Unemployment rose due to the pandemic, but for those who didn't lose their jobs but were forced to work from home, expenses were reduced for items such as fuel for transportation to work, work lunches and even office attire.
"Many are using that disposable income to eat better at home," he said.
Once the pandemic ends, Close believes there will be a lot of pent-up energy that will drive a boom in restaurant eating again.