When the Title Match is Big Ag vs. Hobby Farms, PETA Wins, Page 2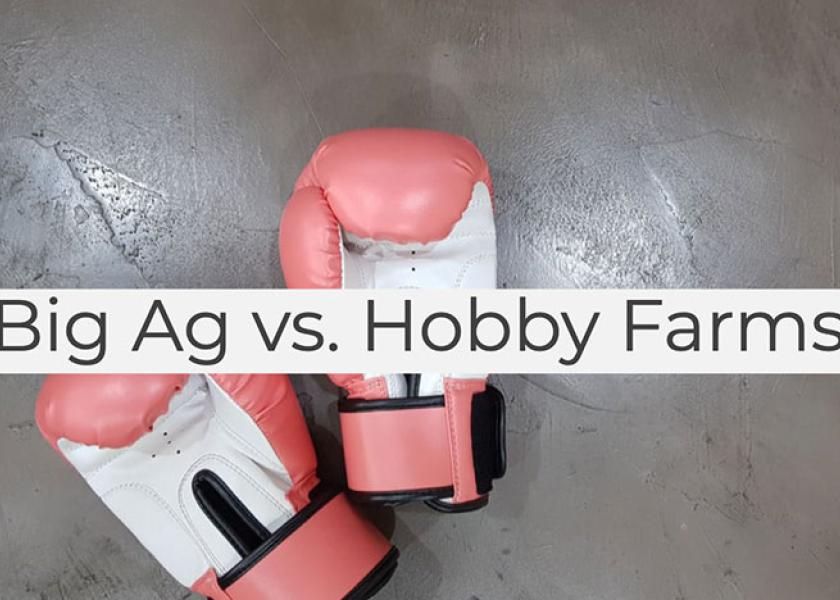 On the other hand, there are those of us (cough, me) who relish the ability to eat strawberries, green beans, ice cream and bacon year-round, courtesy of the local Wal-Mart. I appreciate the availability of easy access to all foods, year-round due to our robust and complex U.S. food system, which includes trade with other agriculture-rich countries. Except rhubarb, I can never find that stuff out of season. 
Incidentally, many of us are commodity producers AND hobby farmers/ranchers. How so? I'll use my husband and myself as examples to highlight how labeling each other does no good. 
We operate a seedstock Gelbvieh and Balancer ranch and our herd, according to the 2017 Ag Census, is larger than the national average. However, we are small according to other size measurements such as number of employees and acres owned, plus we both have full-time, non-ranch employment. So, technically we could be classified as hobby ranchers since it's not our main income. However, when we have bulls that don't make the seedstock cut (technically, they are getting "the cut"), they are marketed through the commodity beef supply via auction market, backgrounder and feedyard; which technically makes us part of "big beef." How many labels can be thrown on one farmer or rancher before things get tedious and confusing?
The gist of the issue is that when we label things — people, food, industries, etc. — we lose focus of the main goal, which should be to produce healthy food in an ethical, profitable and sustainable way. That's the big picture, and all farmers and ranchers — small and large — are fully capable of achieving that goal. Honestly, we'd probably all reach the goal more quickly if we'd work together instead of hurling insults at each other. The world needs all kind of farmers and ranchers, of all sizes, shapes and backgrounds, to fulfill our food needs. 
Does anyone else feel like labels are further segregating us while PETA just watches, licking their vegetables? As we tear each other down, we weaken the ag sector and make ourselves tremendously vulnerable to outside perils. I can confidently say that what qualifies as a large farm or small farm should be of no consequence and we ought to be eyeballing a very real threat - one that presents itself in the shape of a hockey puck and is made of pea protein. 
Brandi Buzzard Frobose is a rancher, ranch wife, mama, agriculture advocate, calf roper and the director of communications for the Red Angus Association of America.
Related articles
A Timeline of the Fair Oaks Farms Investigation
Undercover Video Shows Abuse At Fair Oaks Farms