Salmonella Webinar Approved For Continuing Education Credits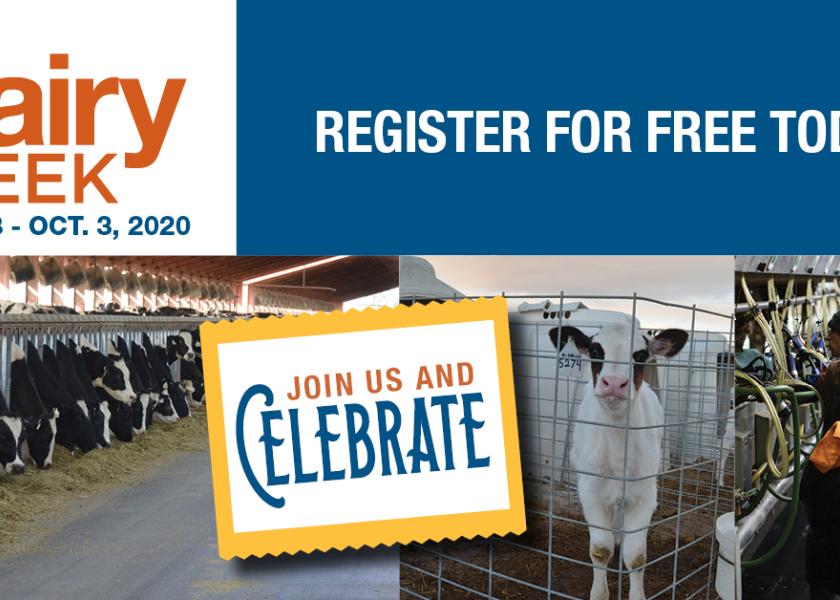 While 2020 may be a year remembered for opportunities lost, Dairy Herd Management and Bovine Veterinarian are giving the dairy industry an opportunity to celebrate Sept. 28 – Oct. 3, with the launch of Dairy Week — an unprecedented offering of free information and resources dedicated to dairy producers and those that support them.
Dairy Week is presented by Elanco Rumensin and will feature exclusive content across all Farm Journal platforms, including featured editorial in Dairy Herd Management, dairy-focused video broadcasts, how-to videos, live from Dairy Week virtual videos, dairy farmer podcast features, e-books, resources and product displays in a virtual showroom, as well as live and on-demand webinars and surprise celebrity guests.
A Dairy Week webinar has been approved for an hour of continuing education credit in jurisdictions that recognize RACE approval:
Topic: Salmonella: A Look at Prevalence, Prevention & Treatment Protocol
Time and Date: Tuesday, Sept. 29 at 1 p.m. Central
To learn more and register for free, go to DairyHerd.com/DairyWeek.
Bovine veterinarians Dr. Kayla Clark and Dr. Kent Fenton will discuss how they are addressing Salmonella with dairy and beef producers through education, diagnostics, treatment and control measures. The increasing prevalence of Salmonella, particularly Salmonella Dublin, is a challenge to both dairy and beef producers, and veterinarians are stepping up to proactively address this infection.
"We are excited to provide access to timely and critical information about Salmonella with an added bonus of an hour of RACE credit," said Rhonda Brooks, editor of Bovine Veterinarian. "Dr. Clark and Dr. Fenton have extensive experience in addressing the problem and will provide a valuable educational program. Dairy and beef producers are welcome to participate, in addition to practitioners."
Dairy Week programming begins at 9 a.m. CDT on Sept. 28 and will be offered each day through Oct. 3, with all content and the virtual showroom available on demand through Dec. 31, 2020. Topics include products beyond milk: cheese and butter, practical tips and advice on subjects such as forage quality and quantity, equipment insights on choppers, World Dairy Expo traditions and personalities and tips, insights and trends from industry experts. Sponsoring companies will have displays in the virtual showroom that feature new products and experts available for conversation.
"Of all the years we need education, networking and a sense of community — 2020 is the year," said Anna-Lisa Laca, dairy editorial director and editor of Dairy Herd Management and MILK. "Dairy Week will be a virtual celebration of the dairy industry that encompasses all of the assets Farm Journal has to offer. Dairy will take center stage on 'AgDay' and 'U.S. Farm Report' TV and 'AgriTalk' radio. We've gathered the brightest experts in the dairy industry to help us gain insight to be successful in this wild market."
About Farm Journal
Farm Journal is the nation's leading business information and media company serving the agricultural market. Started 144 years ago with the preeminent Farm Journal magazine, the company serves the row crop, livestock, produce and retail sectors through branded websites, eNewsletters and phone apps; business magazines; live events including conferences, seminars and tradeshows; nationally broadcasted television and radio programs; a robust mobile-text-marketing business; and an array of data-driven, paid information products. Farm Journal also is the majority shareholder of the online equipment marketplace, Machinery Pete LLC. In 2010, the company established the non-profit, public charity, Farm Journal Foundation, dedicated to sustaining agriculture's ability to meet the vital needs of a growing population through education and empowerment.