New Tools for Your Farm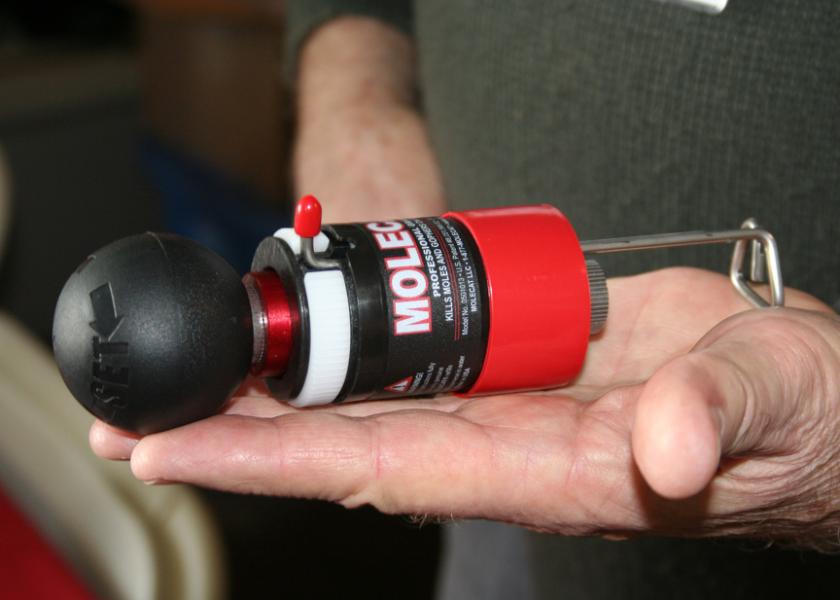 A closer look at the 2015 Top 10 New Products from World Ag Expo.
Halfway through this year's World Ag Expo, Jon Curry was well on his way to selling out of the 400 Earth Talon Shovels he'd brought to the California farm and equipment show.
Curry's uniquely designed shovel not only earned one of the show's Top 10 New Products awards this year but caught the interest of farmers, golf-course managers, landscapers and back-yard gardeners. They mobbed Curry's booth, paying $20 for the shovel that's now priced at $40 online.
It wasn't price alone that drew them to the asymmetrical Earth Talon Shovel. For people who spend a lot of time digging holes, the shovel promises an easier, more efficient job of penetrating the ground surface. Its rigid blade curves like a normal shovel on one side, then dips sharply on the other, leaving a sharp point that pierces hard dirt.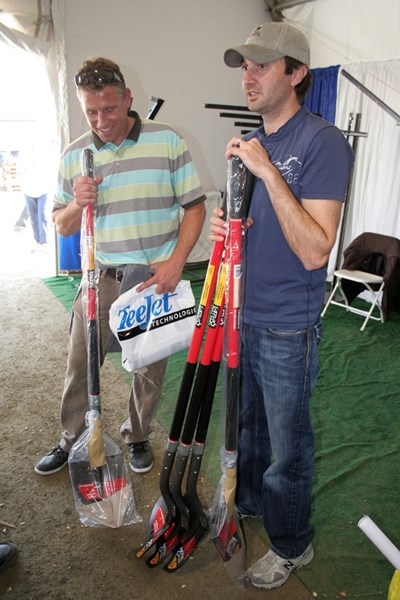 Kevin Kienast (left), a turf-grass farmer from Carlsbad, Calif., and Nathan Radwick, a superintendent at a golf club in Malibu, Calif., appear pleased with their new Earth Talon Shovel purchases during February's World Ag Expo.
"We moved the digging edge forward, concentrating the force at the point for deeper soil penetration," said Curry, president of Arizona-based Curry Toolworks.
Another of 2015's new Top 10 picks selling briskly at the show was the MoleCat Unit. The mole trap uses a percussion blast, or deadly shock waves, to kill pesky rodents. Placed in the rodent's burrow, the device is triggered by the animal's movement.
"It's 100% effective," said MoleCat vice president Vernon Reitenbaugh.
Rounding out the other Top 10 New Product winners were:
Simple Pump Solar Package – This water-well pump is a fully automated system that runs by solar power. "It's the ideal, off-grid pump that can work especially well for watering livestock in remote locations," said Simple Pump Company's Peter Dugan. The package comes with a pump, motor, control systems and a solar power unit. For a 100' well, the cost is about $3,500, including a 30% federal renewable energy tax credit.
DRI System – Deep Root Irrigation's new underground irrigation system uses the concept of drip irrigation but delivers water directly below the root zone. Founder and manager Jeff Ciudaj said the DRI system has shown water savings of up to 50% in vineyards and orchards compared to traditional drip systems.
Polydress 02 Barrier 2 in 1 – Created to protect silage stored for livestock, PolyExcel's oxygen barrier film is the first to combine silage film with vacuum film so that it's applied in one work step during the covering process.
Hybrid Shipper – Macro Plastics' lightweight, all-plastic container allows growers to handle product directly from the field, store it and ship it in this returnable-reusable bin.
DeLaval BCS System – Using a 3-D camera and software, DeLaval's new product automatically calculates the body condition score of dairy cows.
DairyProQ – GEA Farm Technologies has delivered this long-awaited robotic rotary milking parlor for large-scale herds. The high-tech system can handle up to 4,500 cows. "It's the large-farm solution," said GEA's Steve Pretz, "the next step in automated milking."  
Vet Check Maxx – New from Dairy Records Management Systems, this Android-tailored software provides a broad view of cow information for reproductive and veterinary management. It now comes bundled with the company's PocketDairy product.
Tule River Nut Crowder – Nut growers can reduce labor and eliminate ground crop loss with this nut-harvesting implement. Made by California-based Nikkel Iron Works Crop., it gathers fallen nuts from the end of each lane and re-positions them for pick-up by a trailing machine. The implement does the work of four people in less time.  
World Ag Expo's Top 10 New Products are chosen each year by a group of judges comprised of farmers, ranchers and industry professionals. With 100,000 people attending the three-day show each February near Tulare, Calif., the new-product award offers unique exposure that can help jump-start sales.