Zoetis Helps Enhance Reproductive Efficiency Among Cattle With LUTALYSE HighCon Injection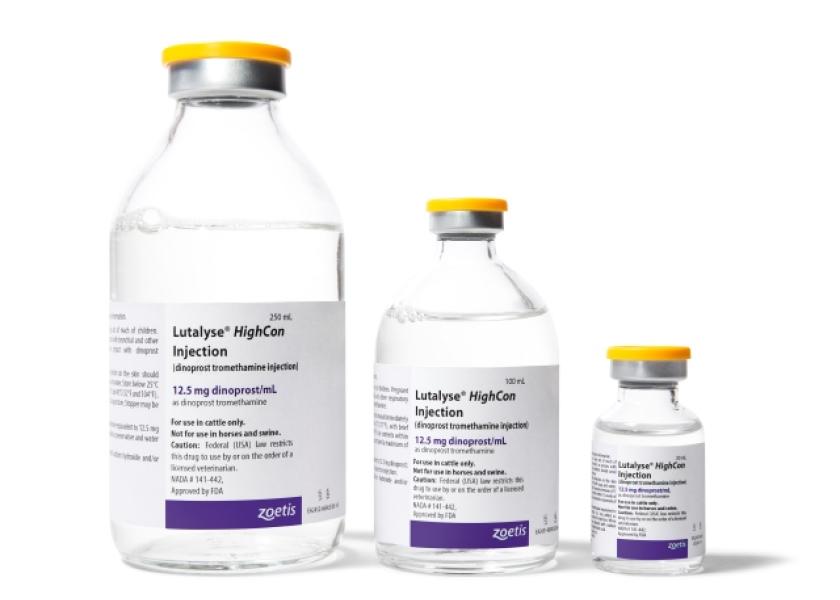 Cattle producers and veterinarians now have a new management tool for added reproductive efficiency. Zoetis today announced the introduction of LUTALYSE HighCon Injection (dinoprost tromethamine injection), a high-concentration formula of the proven LUTALYSE Injection (dinoprost injection) approved for use in dairy and beef cattle.
The higher-concentration formula of LUTALYSE HighCon allows for a 2-mL dose. This provides more doses per bottle, thus fewer bottle changes, and a quicker, more-convenient administration.
"Zoetis heard customers' requests for greater convenience and flexibility, so we committed to developing a new, relevant, on-label reproductive solution," said Richard Wallace, DVM, MS, senior veterinarian, Dairy Technical Services, Zoetis. "Besides the higher concentration formula, LUTALYSE HighCon delivers the same benefits of LUTALYSE but with additional distinguishable improvements."
Flexibility with subcutaneous administration option
LUTALYSE HighCon is the first and only prostaglandin on the market licensed by the U.S. Food and Drug Administration for subcutaneous administration in addition to intramuscular administration. This approval allows producers and veterinarians flexible administration options while allowing them to abide by strict Dairy Animal Care and Quality Assurance as well as Beef Quality Assurance (BQA) standards, in turn, minimizing potential injection site blemishes.
"Keep in mind, dairy producers also are beef producers, so they must continue to be mindful about carcass quality and prevent injection site blemishes or muscle damage," Wallace said. Dairy cattle had more visible injection site blemishes than beef cows, according to a 2007 National Market Cow and Bull Beef Quality Audit.1 When the economic losses of quality defects in beef from dairy market cattle are added together, the impact translates to an average loss to all dairy producers of $70 to $100 for every market dairy cow sold.2
Larger bottle sizes
To fit varying herd management needs, LUTALYSE HighCon is available in three bottle sizes — 20 mL, 100 mL and 250 mL. It's important to note that LUTALYSE HighCon is approved for use in cattle only, not equine or swine like LUTALYSE.
Approved for use with FACTREL Injection for FTAI
Like LUTALYSE, LUTALYSE HighCon is approved for use with FACTREL Injection (gonadorelin injection) to synchronize estrous cycles to allow for fixed-time artificial insemination (FTAI) in lactating dairy cows. FTAI with FACTREL and LUTALYSE or LUTALYSE HighCon can help improve reproductive efficiency. It also gives producers the flexibility to implement many of the popular synchronization programs recommended by the Dairy Cattle Reproduction Council.
FTAI protocols can help increase the number of pregnancies by more effectively timing insemination with ovulation — taking the guesswork out of reproduction. Focusing on reproductive management and protocol compliance can help improve pregnancy rates and reproductive efficiency. Improving the 21-day pregnancy rate from 22% to 27% could result in a value of $78 per cow per year, or $39,000 for a 500-cow dairy.3,4
For several decades, the strategic use of prostaglandin has been a key component of breeding management, supporting estrous synchronization, FTAI and other strategies. Breeding management programs have long been recognized by cattle producers to help optimize the productivity, efficiency and profit potential of their operations.
Backed by years of proven success, Zoetis products are a leading choice of dairy producers across the country and can help improve the efficiency of a reproductive program. LUTALYSE HighCon provides another choice, along with LUTALYSE, for producers to manage synchronization programs.
Both products will be available to provide dairy producers and veterinarians options for whatever works best for their operation.
Learn more about LUTALYSE HighCon at DairyWellness.com or by contacting your veterinarian or Zoetis representative.
IMPORTANT SAFETY INFORMATION FOR LUTALYSE/LUTALYSE HIGHCON: Women of childbearing age and persons with respiratory problems should exercise extreme caution when handling LUTALYSE/LUTALYSE HighCon. LUTALYSE/LUTALYSE HighCon is readily absorbed through the skin and may cause abortion and/or bronchiospasms, therefore spillage on the skin should be washed off immediately with soap and water. Aseptic technique should be used to reduce the possibility of post-injection clostridial infections. Do not administer LUTALYSE/LUTALYSE HighCon in pregnant cattle unless cessation of pregnancy is desired. See full Prescribing Information for LUTALYSE. See full Prescribing Information for LUTALYSE HighCon.
IMPORTANT SAFETY INFORMATION FACTREL: FACTREL is for use in cattle only. See full Prescribing Information.
Source: Zoetis 


 
1 National Cattlemen's Beef Association. Executive Summary of the 2007 National Market Cow and Bull Beef Quality Audit. Published December 2007. Available at: http://www.bqa.org/Media/BQA/Docs/2007auditbeef.pdf. Accessed October 30, 2015.
2 National Dairy Herd Information Association. Dairy Animal Care & Quality Assurance. Available at: http://www.bqa.org/Media/BQA/Docs/dairybqamanual.pdf. Accessed October 30, 2015.
3 Kalantari AS, Giordano J, Cabrera VE. Wisconsin-Cornell Dairy Repro: A Reproductive Program's Economic Analysis Tool. Available at: http://goo.gl/nmboIO. Accessed October 30, 2015.
4 Kalantari AS, Giordano J, Cabrera VE. Evaluating the Economic Value of Changing the Reproductive Management Program for a Specific Dairy Farm. eXtension. January 30, 2014.