Norbrook Announces FDA Approval of Norfenicol Injectable Solution For Broad Spectrum BRD Treatment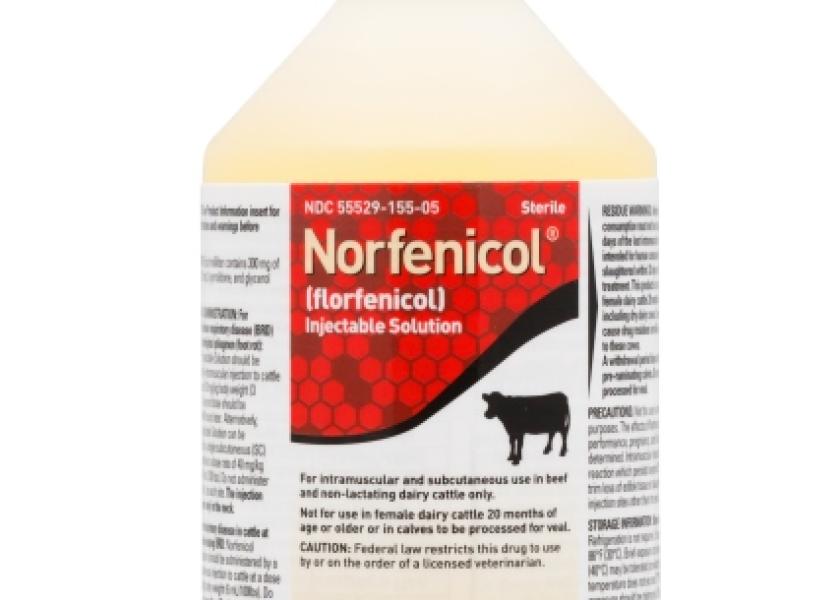 Norbrook Laboratories, Ltd. announced the FDA approval of Norfenicol® (florfenicol) Injectable Solution, a fast-acting treatment for Bovine Respiratory Disease (BRD) associated with Mannheimia haemolytica, Pasteurella multocida, and Histophilus somnus in beef and non-lactating dairy cattle. It is also indicated for the control of respiratory disease in cattle at high risk of developing BRD associated with M. haemolytica, P. multocida, and H. somni, as well as the treatment of bovine interdigital phlegmon (foot rot, acute interdigital necrobacillosis, infectious pododermatitis) associated with Fusobacterium necrophorum and Bacteroides melaninogenicus.
According to Chip Whitlow, Marketing Manager for Norbrook, Inc., Norfenicol has the same active ingredient as NuflorÒ (florfenicol) and will include two additional, innovative product features. "The first is Norfenicol will have a shorter withdrawal period than Nuflor when administered Sub-Q (33 days vs. 38 days). In addition, Norfenicol will be the only injectable antibiotic for cattle sold in the US in an unbreakable plastic bottle. This eliminates the expense of product breakage when mishandled," announces Whitlow.
"Florfenicol, the active ingredient in Norfenicol, is a proven compound in the treatment of BRD," states Dr. Eric Moore, Director of Technical Services, Norbrook, Inc.  Dr. Moore adds, "With the price of cattle, and both the immediate and hidden costs of BRD, an effective antibiotic like Norfenicol is essential in giving the cattle producer piece of mind when battling BRD."
New Norfenicol will soon be available from veterinarians in unbreakable plastic 100 mL, 250 mL and 500 mL bottles to fit any size operation. For more information about new Norfenicol Injectable Solution, contact your veterinarian or local animal health products supplier or Norbrook, Inc. at www.norbrookinc.com.
Observe label directions and withdrawal times. Federal law restricts this drug to use by or on the order of a licensed veterinarian.  For use in beef and non-lactating dairy cattle only.  Not approved for use in female dairy cattle 20 months of age or older, including dry dairy cows.  Animals intended for human consumption must not be slaughtered within 28 days of the last intramuscular treatment or within 33 days of subcutaneous treatment.   Do not use in calves to be processed for veal.  Intramuscular injection may result in local tissue reaction which may result in trim loss at slaughter.  See product labeling for full product information, including adverse reactions.
Source: Norbrook Laboratories, Ltd.