Farm Show Stars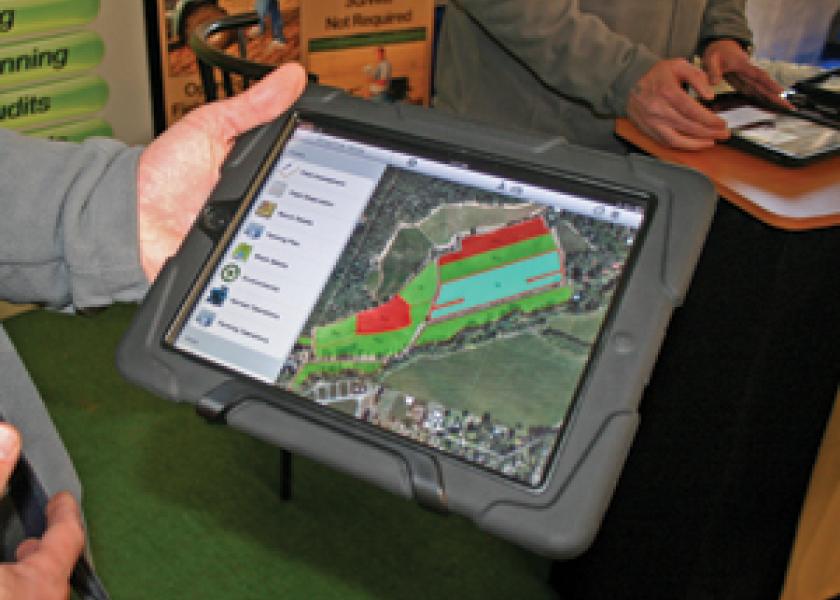 World Ag Expo's 2012 Top 10 New Products
Each year, a group of judges made up of farmers, ranchers and industry professionals selects the Top 10 New Products at the 2012 World Ag Expo, held in mid-February in Tulare, Calif. Here's a quick list of 2012's winners:
Many farmers will find several of the new products helpful in their operations. Here are more
details on a few of the winners.

iCropTrak: This iPad app lets you take your office to the field. Collect and manage data on crops and labor management, diagnose plant problems, analyze lab results and call up field maps.
Farmers will like its 10-hour battery life, GPS features and ability to run without a web connection in the field.

DewPoint 6110: This mobile steam generator and injection system allows commercial hay growers to steam hay as they bale. That means they can bale hay 24 hours a day, if they choose, since they don't have to wait for natural dew to develop.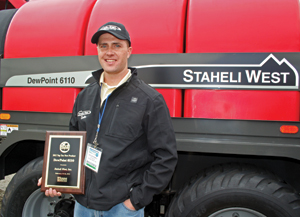 The DewPoint 6110, one of the 2012 Top 10 New Products, is a mobile steam generator and injection system for hay growers.

"This is a totally new concept in forage management," says Dave Staheli, whose family developed the DewPoint 6110 on their farm in Cedar City, Utah.

The DewPoint 6110 is designed for use with large square balers, and is pulled between the tractor and the baler. Priced at about $162,000, one DewPoint 6110 and a baler can replace up to four conventional balers.

durablend-C: An enhanced chloride dust control and road stabilization product, durablend-C provides a more efficient, longer-lasting and environmentally friendly alternative to typical chloride treatments. Made by EnviroTech Services of Greeley, Colo., it bonds with the soil to reduce leaching, even after rainfalls. By improving friction in moisture situations, it provides safer driving conditions.

Valley Tire Pressure Monitor: This center-pivot tire pressure monitor system from Valley Irrigation lets irrigators check tire pressure at the control panel or remotely, saving downtime and preventing repair expenses.

ai24's SCR HR-Tag by Micro Dairy Logic: This tag is worn around the cow's neck to track rumination and activity levels and provide unique insight into its well-being and repro-
ductive status. Semex also sells the SCR HR-Tag.

DeLaval AMR: The first and only automated milk system for rotary milking parlors, DeLaval's AMR uses robots to treat teats and attach cups and touch screens to operate the system and the automatic floor cleaner. The 24-position rotary system provides about 9 to 12 minutes of milking time, completing one rotation in about 12 to 15 minutes.

Hoof-Tec Complete Footbath System: This all-in-one, pre-mixed liquid provides economical control of hoof diseases in dairy cows. The footbath is a blend of antimicrobial copper, safe acids and hoof conditioning salts and minerals. It contains no formaldehyde. A single treatment costs about 7¢ to 10¢ per cow. A 50-gal. footbath treats 350 to 500 cows before needing to be replaced.
---