DeLaval Expands Non-Iodine Family of Innovative Udder Health Solutions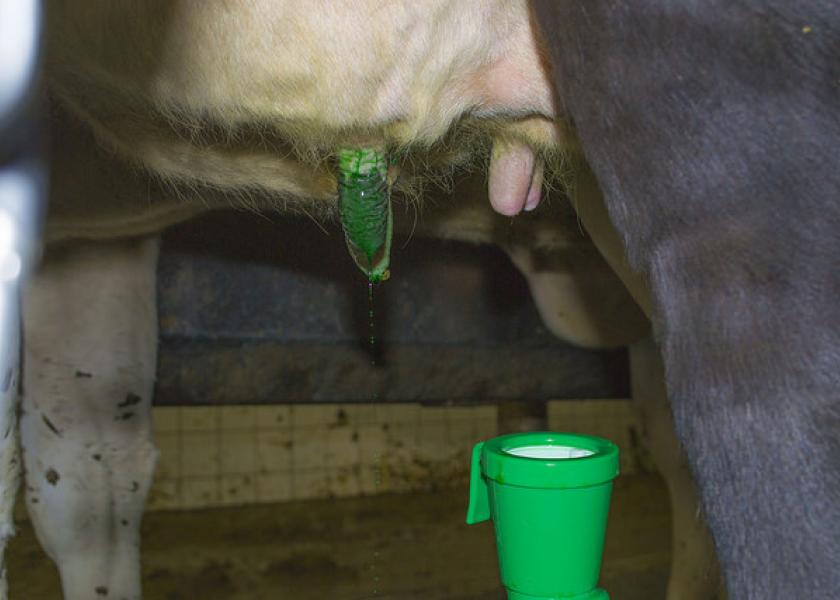 DeLaval welcomes Lactisan™ and Lactisan™ Winter to the DeLaval family of non-iodine udder health solutions.
Lactisan™ is a year-round all natural non-iodine pre and post teat dip, and Lactisan™ Winter is an adverse weather post dip that meets the harsh demands of the North American climate. Lactic acid is an all natural, broad spectrum, antibacterial agent and disinfectant commonly found in toothpaste and shampoos today.
LactiSyn™ technology is a formulation of lactic acid and proprietary surfactants that boost germicidal efficacy to high standards expected in DeLaval's teat dips. The two components in LactiSyn™ disrupt to help eliminate mastitis bacteria. Lactisan™ and Lactisan™ Winter can be dipped or sprayed and just like their sibling, LactiFence™, which was introduced in 2013 at the World Dairy Expo, have a distinctly visible green appearance. With high viscosity, the barrier clings well to teats, ensuring good coverage and the colour makes it easier for dairy producers to distinguish which cows in the herd have been disinfected.
All DeLaval lactic acid udder health solutions have undergone strict clinical trials on dairy farms, proving to be highly effective teat dips, aiding in reducing incidences of clinical mastitis. In addition, the teat dips hydrate and soften the teat skin. In diluted form, Lactisan™ contains 5% sorbitol which provides a coating to keep skin soft, hydrated, pliable and moisturized. Lactisan ™ Winter contains a 50% emollient package and is fast drying to provide greater protection during extreme temperatures and demanding environmental conditions, when animals
are vulnerable.
Andreas (Andy) Wick of Swiss Valley Farms II, NY evaluated Lactisan during farm clinical trials. "I tried Lactisan Pre-Post and had good results, not only did my clinicals remain low, it helped maintain teat skin during winter conditions. I look forward to continue using Lactisan Pre-Post and trying Lactisan Winter."
DeLaval invites visitors during World Dairy Expo 2014, to booth #3011-3315 in Exhibition Hall for a free trial size, while supplies last, of either Lactisan™ or Lactisan™ Winter and also to learn more about the DeLaval family of non iodine udder health solutions.
Lactisan™, Lactisan™ Winter and LactiFence™ udder health solutions are available to dairy producers in the U.S. And for a limited time, enquire with your local dealer about a Special Introductory Offer.

Source: DeLaval