Virtual Format Announced for the 2021 Driftless Region Beef Conference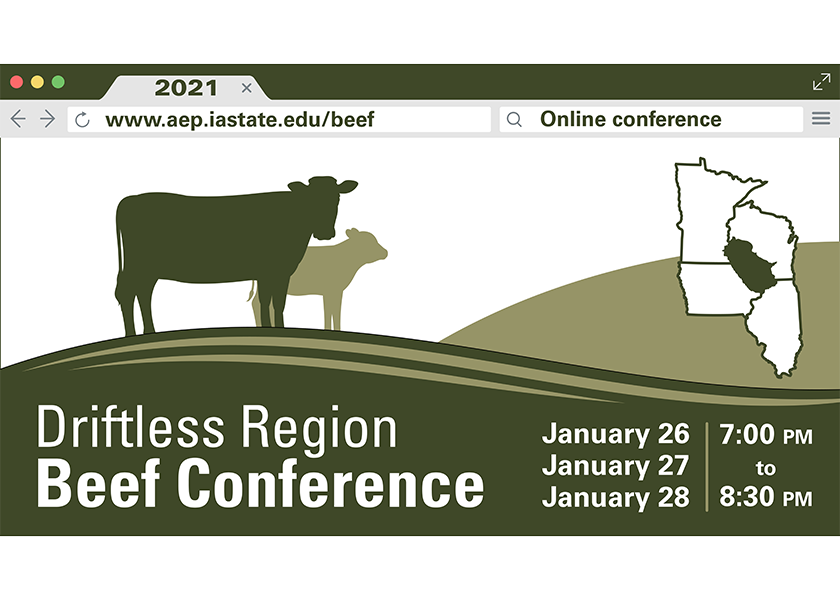 University extension services in Illinois, Iowa and Wisconsin have teamed up to offer the annual Driftless Region Beef Conference in a virtual format for 2021. The event will be held January 26-28, with webinars each evening from 7-8:30 p.m., according to a release from the Iowa Beef Center. Two presenters will speak each night.
While the organizers are disappointed that the conference can't be held in-person, safety is the highest priority during the current COVID-19 pandemic. The virtual format also allows for those who may not have been able to travel for the conference in the past to join, the release notes.
The agenda for each night is below.
Starting off Tuesday evening, Dr. Frank Mitloehner of UC-Davis will speak on Greenhouse Gas, Sustainability and Beef Cattle Production; and Dr. Kevin Bernhardt of UW Madison Division of Extension, will talk about Building Farm Resiliency for Surviving Volatile Times.
Wednesday night will feature Shawn Darcy of the National Cattlemen's Beef Association, addressing What Consumers Say They Need and Want; and Dr. Paul Plummer of Iowa State University, who will discuss Antibiotic Resistance in the Beef Industry.
The final evening, Thursday, concludes with Dr. Danelle Bickett-Weddle of Iowa State University, covering Being Prepared for a Beef Cattle Pandemic/Secure Beef (both cow-calf and feedlot); and Dr. Brenda Boetel of UW Madison Division of Extension, who will present a 2021 Market Outlook.
More information about the topics and presenters can be found at http://www.aep.iastate.edu/beef/. Driftless Region Beef Conference sponsors are Iowa State University Extension and Outreach, University of Illinois Extension, and University of Wisconsin-Madison Division of Extension.