Study Affirms U.S. Pork Industry's Efforts to Keep ASF Out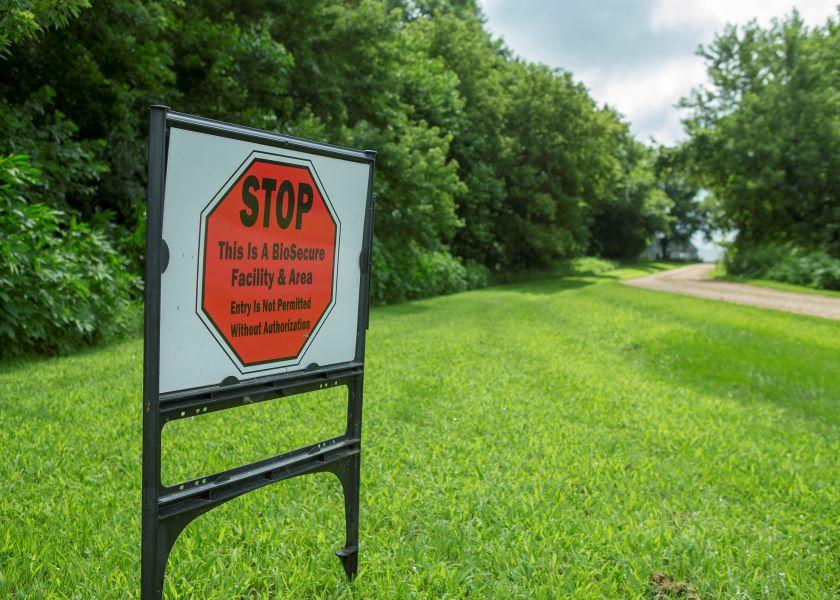 The time you are most at risk for something is when you don't know it's a risk, says Patrick Webb, DVM, National Pork Board acting chief veterinarian.
That's why a new year-long study to identify U.S. pork industry gaps in biosecurity defenses against foreign animal diseases is creating such a stir. And it's not because the study found a problem, Webb says. 
The study, conducted by EpiX Analytics, LLC, and funded by the Pork Checkoff and the Swine Health Information Center (SHIC), found no major areas have been overlooked in efforts to prevent the introduction of African swine fever (ASF) to the U.S. 
With the recent confirmation of ASF in the Dominican Republic, Webb hopes this study provides reassurance the U.S. pork industry and government agencies have identified the major routes of potential domestic introduction and are on the right path to keep foreign animal diseases out of the U.S.
"This EpiX review provided a third-party evaluation of potential gaps in national biosecurity that could put the U.S. swine industry at risk of a viral introduction. It is reassuring that the review did not find any gaps that we were not already aware of and working to address," says Harry Snelson, DVM, executive director of the American Association of Swine Veterinarians (AASV). 
EpiX took a look at eight foreign animal disease (FAD) entry pathways: legal import of live animals, illegal import of live animals, import of pork products, import of feed and feed ingredients, fomites associated with international movements, international movement of people, transboundary movements of wildlife and vectors, and intentional and accidental release. 
Gaps were then prioritized using a defined set of criteria. Extensive literature review along with input from an advisory group made up of representatives of academia, industry, and government were also highly considered in EpiX process. 
"The study identified and looked into the vulnerabilities of bringing FADs into the U.S.," says Paul Sundberg, DVM, executive director of the Swine Health Information Center (SHIC). 
Closing those pathways as best as possible, along with the partnership of the producers' on-farm biosecurity implementation, is key to the continued safety of the U.S. swine herd, Sundberg says. 
The Work's Not Done
Although the report was encouraging, Webb says more work needs to be done. The study supports the industry in prioritizing next steps to bolster ASF prevention and preparedness. 
"The illegal import of animals and pork products, to me personally is a big area of concern," Webb says. "The sooner we can catch someone before they board a plane or after they get off the plane with an illegally imported pork product, the better to prevent it from entering the potential risk pathway for getting ingested by a pig."
The vulnerability of illegal import of meat is being addressed by U.S. Customs and Border Protection along with USDA programs to decrease the risk, Webb says. 
The EpiX work also validated the industry's assumption that there is still vulnerability from imported feed and feed ingredients, encouraging further research. Other vulnerabilities, such as feral swine and illegal or out-of-regulatory-compliance garbage feeding, were also identified as areas for the industry to continue working to address. 
"We must continue to work together to find real-world solutions for producers and their suppliers to implement that can help keep our national herd free of this costly virus," Webb says. "The discovery of ASF in the Dominican Republic has pushed a lot of buttons on the preparedness side. I've seen a reprioritization of emergency preparedness related to the Dominican Republic."
Webb says the National Pork Board's board of directors is incredibly motivated to support USDA in whatever the organization needs to reduce risk.
"Knowing we have accurately identified the potential ASF pathways allows us to sharpen our focus on further strengthening biosecurity defenses in the right places," said Liz Wagstrom, DVM, National Pork Producer Council's (NPPC) chief veterinarian. "These efforts include ongoing work by the Cooperative Feed Risk Task Force – with representation from the USDA, FDA, industry and academia – to inform feed purchasing, holding time and treatment practices." 
More from Farm Journal's PORK:
ASF Vaccines: Is the Waiting Game Almost Over?
Close All the Windows to Keep ASF Out
ASF in the Western Hemisphere: What's Different 40 Years Later? 
​​​​​​It's Time to ​Batten Down the Hatches, Pork Industry Experts Say
Learn more about what the industry is doing to prevent ASF from entering the country.