A Special Message from Your Editor on #FieldDays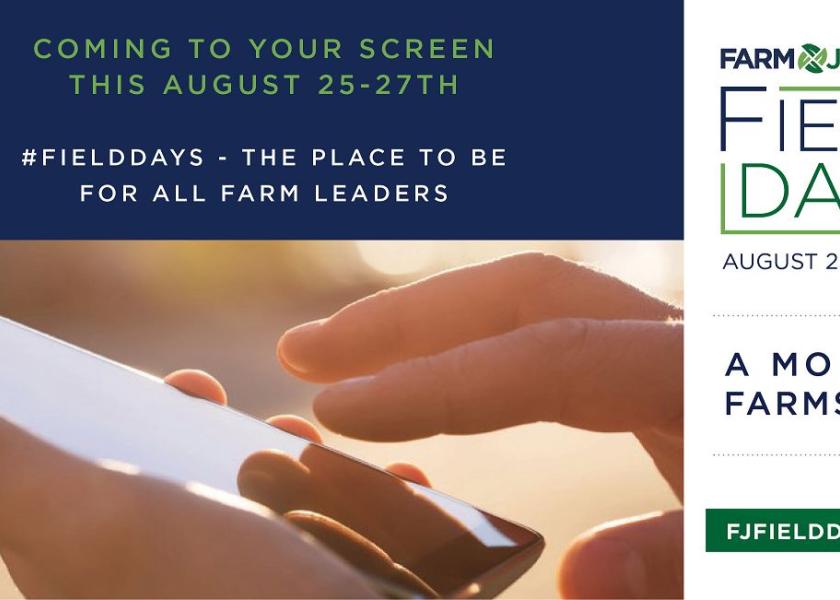 Dear Reader,
As a long-time member of our nation's farming and agricultural industry, I am excited to tell you more about the launch of our inaugural  Farm Journal Field Days  show. A lot has happened over the past few months. As veterinarians, beef and dairy producers, you all have faced significant business challenges. Yet, there are also a number of opportunities today—new technology and best-practices that can help streamline and improve the efficiency of any agribusiness. 
Farm Journal and our veterinary, beef and dairy publications have always supported our nation's farm leaders, and we understand the importance of farm community events. In continuing to provide the essential industry information that we have become accustomed to for 142 years, we have created a modern and COVID-safe show designed for everyone in the agricultural industry with three days of virtual discussion, tours, solutions and insightful talks from key industry leaders.
During the virtual show, our team of experts will bring our valuable content to life with informative sessions from farms directly to your screens. We are serving up the content to make it easy for you to digest. You can view these sessions live and on-demand. In addition, you'll have access to the latest innovative products, services, technology and machinery through our interactive expo hall.  
We have conducted extensive research, and are bringing you the most comprehensive show we have ever produced to keep you, beef and dairy producer leaders moving forward:
•    Virtual Learning Pavilion & Thought-leadership Exchange on all the latest topics, challenges and solutions facing the beef and dairy industries
•    New and exclusive #FarmOn benefit Concert with an enviable country music star line-up, including Grammy-nominated Lee Brice
•    Product Showcase with access to solution-providers, latest machinery models and services including in-event demos
•    Virtual beer garden sessions for networking and connecting with the industry
•    Great giveaways and a virtual swag bag
I would like to take this opportunity to thank you for your readership of Bovine Veterinarian, which continues to inspire my editorial team to make our proud and trusted publication even better.
I look forward to seeing you on August 25.