One Month After Hurricane Ida Destroyed NJ's Largest Dairy Farm, Rebuilding is Still Underway as Family Refuses to Walk Away
U.S. Farm Report 10/02/21 - Grit With Grace
Located just south of Philadelphia, Pa., outside a New Jersey suburb, is where Eric Eachus calls home.
"We're located here in south Jersey; we farm around 3,000 acres here," says Eric, who farms in Mullica Hills, N. J.
In the middle of subdivisions and a crawling metropolis, Eachus and his family continue the farm's 73-year history of dairy farming. Started in 1943 by his grandparents, today, they're one of the last ones left -- not just in the area but across the state.
"We're a dairy farm with 1,400 cows, and we milk around 650," he says.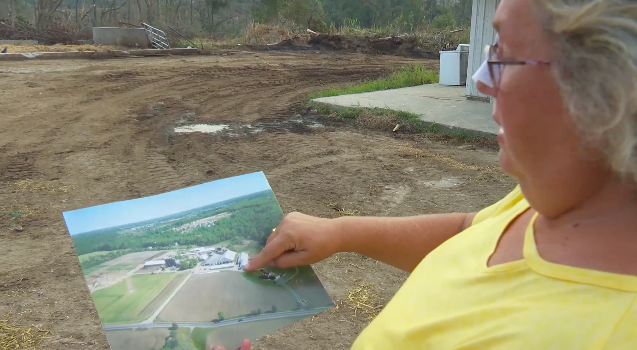 Out of 114 dairy farms left in New Jersey, Wellacrest Farms is now the largest in the state. And just over a month ago, it became a dairy farm that's managed to withstand a huge obstacle from Mother Nature.
A Rare Tornado 
An area not known for dairying is also one where devastation from a tornado is rare. But on Sept.1, 2021, Wellacrest Farms was the target of Hurricane Ida's wrath.
"We had a F3 tornado come through and that left a lot of destruction," says Eric.
At 6:30 p.m. that night, Eric and his wife got the tornado warning alert. Away from their phones, they didn't see the warning right away.
"My wife ran out and got her friend who said that there's an imminent tornado just touched down a couple miles that way," he remembers.
"Everything is Gone"
As they took cover, they didn't realize the extreme scene unfolding outside: one of the largest tornadoes in New Jersey history was ripping across their dairy.
"As soon as we pulled up here along the main driveway, I just couldn't believe what I was looking at," says Eric, as he tours the damage still left.
The scene on Wellacrest Farms looked more like a scene from something he'd only seen on the news about the Plains or Midwest. Instead, with barns flattened, equipment trapped and infrastructure tangled all across their farm, that tornado damage was sitting in their backyard.
"You couldn't even drive up here as trees, all the wires were down," he recalls. "Buildings were blown down, cows all over the place. It was just disaster. As soon as we came here, I called my dad and he came over and just walked around; he was just in shock. What do you do? Where do you start?"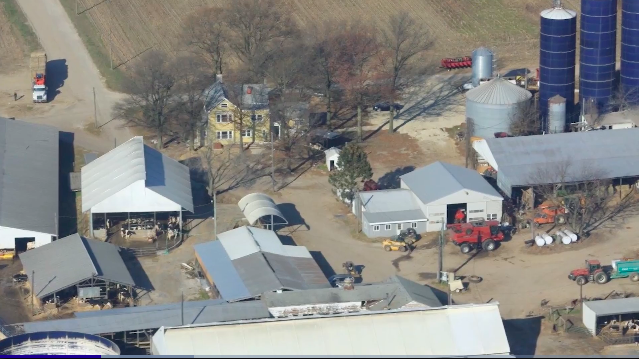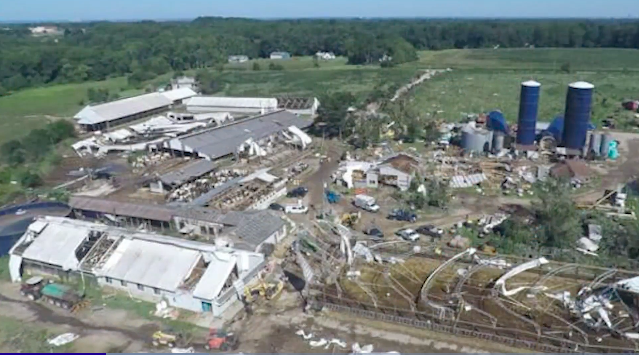 Picking up the Pieces
But starting somewhere is exactly what they did. Checking to make sure the power lines were off of the roof, they started right in to save any cows they could.
"Back that way we have three different barns that house heifers and dry cows, and there's nothing left to those buildings, so we had about 600 cows running loose," says Eric. "The first thing was all the cows were out, so we were trying to gather them up somehow, just so they would be safe.Then we worked on trying to get trapped cows out of the buildings," says Eric.
---
---
As Eric and his family were still in shock, they knew the job was too much to do on their own. Plus, it was nightfall and dark out. So, they called a few farm employees and neighbors for help.
"By 7 p.m., we probably had 50, 60 people here," he adds.
As more started to show up, he says 75 people were there until after 11 p.m., all working collectively to move the cows to safety.
"Out of the one freestyle barns that was down, we had about 120 cows on either side of the barn, and the one side was leaning a little higher, so we were able to get all those out. But on the other side, the cows were trapped," he says.
Cutting metal trusses one by one, they were able to free cows on one side. While the cows were pinned on the other side, they were not injured. Considering the Eachus family couldn't even access much of their machinery, they knew they couldn't rescue the rest of the cows until the next day.
"So, the next thing was we called the local electric company and tried to get power to our parlor, because we still have to milk what we can," he says.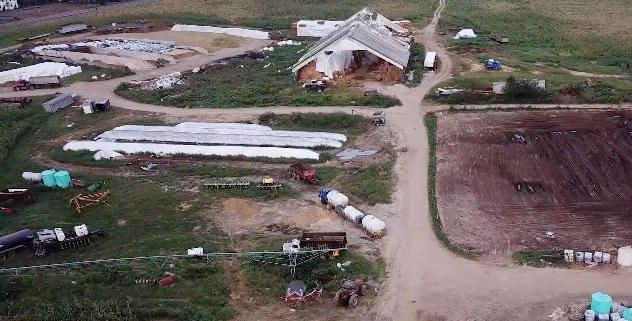 Working through the night, with the help of a specialist to fix mechanical issues, and enough generators to power the barn, the Eachus family was able to milk the next day. An amazing feat, one that happened with a community who helped. And the next morning, even more help poured in.
"Then, a local construction company came in, because they heard about it. And one of the foremen said, 'What do we need to do?' I said, 'Well, the first thing is, we have120 cows still trapped, we can't get to them,'" says Eric.
All day Thursday, that construction company worked to help get the remaining cows out. And Eric says the company has been on the farm ever since, continuing to help the family clear a temporary place for the dairy to milk.
"We put makeshift gates up, just so the cows can go back to their state of flow, they have no roof or building, but at least it's their spot where they have a place to lay down; it's where we feed them, they have water there," says Eric.
How Do We Rebuild? 
A temporary plan was put into place just two weeks ago, as the Eachus family wades through more rubble and navigates decisions of what to do next.
"The struggle is trying to figure out what are we going to rebuild? How can we rebuild?" he says.
At a time when building supplies are already tight, the plan to rebuild isn't just coming with decisions of how to rebuild, but how quickly they can construct something to protect the cows from the harshness of an upcoming winter.
"Then the next big problem is insurance and dealing with insurance companies to figure out what they're going to pay and what we can afford to do based on how all that works out," Eric adds. "It's been a lot of phone calls here the past couple of days, then there's been quite a bit trying to decide what we want to do."
As the Eachus family nails down a new building plan for their dairy farm, it's a major decision, as almost every barn on their farm was a total loss. And he says it's still a surprise out of 1,400 cows on the farm, they lost less than 20.
"The buildings were collapsed," Eric says. "There was nothing left to them, but all the cows were scattered around their pastures, but there's no fences left."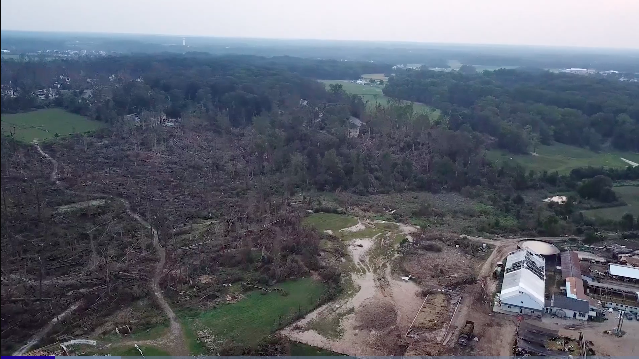 While the rebuilding process will take time, the material things can be replaced, which is why the Eachus family is not only grateful for the animals that were spared, but that other lives were not lost.
"The main thing is we're thankful that despite how much destruction has happened, our family wasn't hurt," says Eric. "And also thankful that none of our employees were here milking in the barns at the time."
Finding the silver lining is second nature for this dairy farmer. You can see it with any conversation. He wears a smile almost everywhere he goes, even in the midst of devastation.
Community of Support
"You look at all the stuff going on in the world and not just the world, but in our own country; everything seems so divided. But when a big disaster like this happens, everybody comes together and tries to help out in any way they can," says Eric.
Many who knew nothing about farming, rallied around to help the Eachus family pick up the pieces left.
"We had school teachers here, we've had lawyers, we had everybody the night after it happened just coming in and saying, 'What can we do to help?'"
It was a tragedy that brought together all walks of life, as this dairy family refuses to walk away.
"We will try to keep it going, so that maybe one day my kids can get to do it," says Eric.
Fighting to have a future in dairy, instead of being overcome with the obstacles, as this dairy farmer is doing so with grit and with grace.
A GoFundMe campaign has been established to help in the recovery. 
Read more inspiring stories from the Grit with Grace series here.