Need A Way to Temporarily Keep Newborn Calves Warm? Try This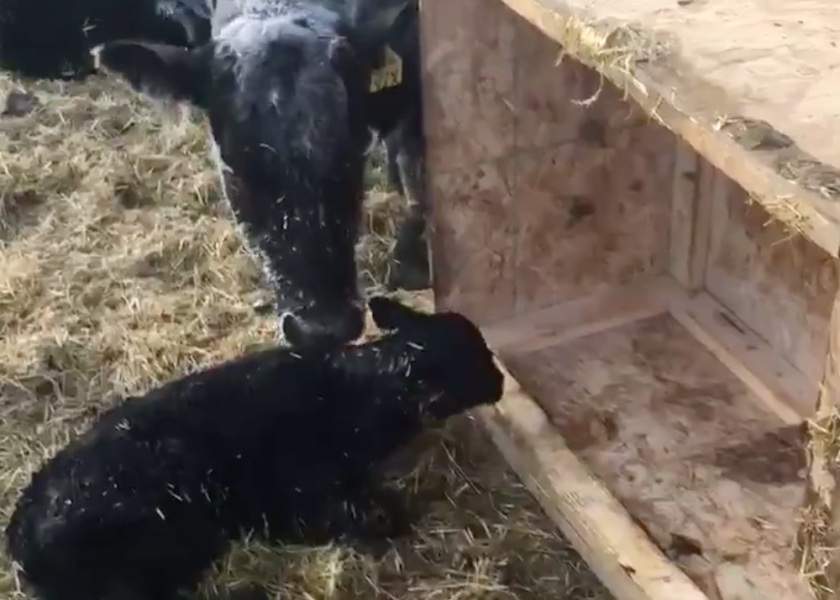 For the first time this Spring, Saskatchewan, Canada, cow/calf operator Mitch Stuart has something new in his arsenal to keep newborn calves warm. Stuart, who runs 300 pairs at Stuart Cattle Station, has family members help with night checking shifts, but was looking for a way to add some extra safety measures for them. That's when he remembered seeing calf boxes used by a rancher who would calve in the dead of winter in very cold northern Saskatchewan.
"If you try to bring a calf inside in the middle of night, some of these cows can get protective. And if somebody got hurt trying to bring a calf into the barn, they wouldn't get found until a few hours later. So, just from a safety aspect, we thought why don't we make a couple of these boxes?" Stuart says.
But they don't use the boxes with every calf every time.
"If it's a quiet cow, we'll still bring them into the barn if we need to. If it's not that cold out, then we won't use the box. But if it's a cold night, and it's a protective cow, then we'll just put this box over top of the calf and then you know that at least the calf is warm until morning," he says.
And while it does separate the calf from the cow, Stuart says that even though colostrum is important, it's not a huge debate if the calf has frozen to death in the night.
"I worked for Cargill in ruminant nutrition and I don't disagree with what some people are saying about colostrum and immunoglobulin absorption [in response to the video on twitter]. It's important that these calves have a suck within the first six hours. But we have some nights up here that are -35C (-31F)," he says. "And it doesn't really matter how much colostrum a calf might take on if it's that cold. There's a good chance the calf's not going to make it."
The cows also seem to take the boxes in stride.
"I thought are the cows just going to run around the pen looking for their calf all night until we lift the box in the morning?" he says. "I would say nine times out of 10 the cow or the first calf heifer is bedded down within five feet of that box."
The only time Stuart has had a mix up is when another cow has then calved and the cow whose calf is under the box will see the second calf and try to claim it.
"All you have to do is lift the box and move the calf over to that cow and she'll clue in a hurry that it's hers," he says.
Stuart says two boxes cost him about $120 to build ($85 U.S. dollars). He says the boxes are on skids to make them easier to transport, and there's just one improvement he'd make the next go around.
"Maybe next year we'll put Styrofoam insulation inside of them. But they're not insulated [now], and with just the warmth of the calf and the straw underneath them, those calves are pretty toasty in the morning," he says.
Check out a video of the box in action below.
So here's something we tried for the first time this spring. Sleep can be pretty important this time of year, so we built a couple of these boxes. If one of the night checkers have a newborn and it's cold out, we flip the box over it. Come morning, mama is there and calf is warm! pic.twitter.com/kTUEfYwTHb — Mitch Stuart (@4FAngusBoy) March 18, 2020