Resources and Resiliency Highlighted During AABP Recent Veterinary Graduate Conference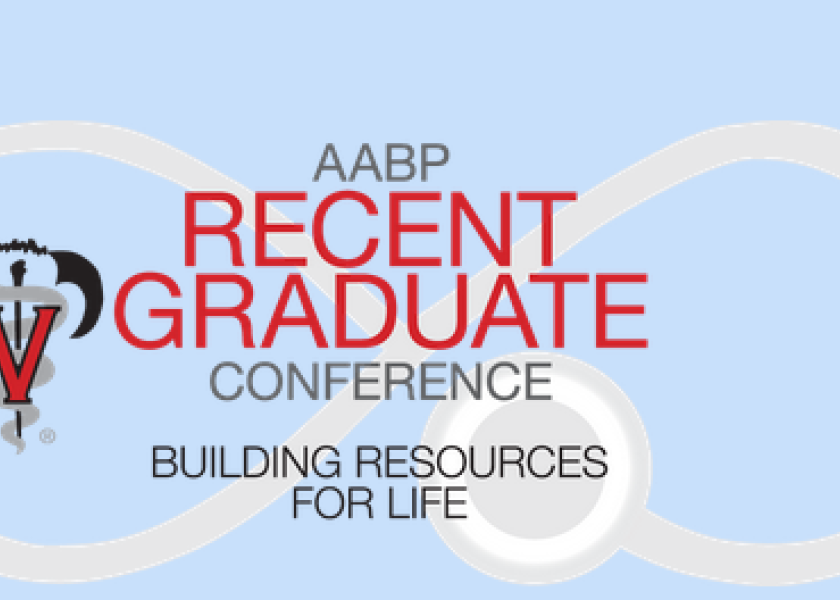 AABP members who are recent veterinary graduates learned a lot about resiliency in practice life at the 2021 4th Annual AABP Recent Veterinary Graduate Conference, Feb. 12-13, in St. Louis, Mo. Normally limited to AABP members who have graduated veterinary school seven or fewer years ago, this year those members could attend in person, but all AABP members, regardless of graduation year, were able to register for virtual attendance. Over 250 were in attendance including in-person, virtual, speakers, exhibitors and guests.
With a theme of "Building Resources for Life" and offering 15.5 RACE-approved CE credits, general sessions were included along with clinical and consulting skills and beef and dairy-specific topics. Additionally, three hands-on preconference seminars focused on DairyComp 305, hot topics in ruminant surgery and restraint, and dairy nutrition troubleshooting (which was also offered to virtual attendees). During Friday night's dinner, attendees were welcomed to the stage to share stories of resiliency in practice.
The program committee, consisting of Dr. Aaron Pospisil (chair), Dr. Blaine Melody (dairy), Dr. Lesley Moser (cow-calf) and Dr. Julia Herman (feedlot), matched the demographic of attendees. "We chose to focus on creating tools that recent graduates could take home and put right into practice," Pospisil said. "Topics ranged from some basic consulting skills to focusing on tips for career longevity in veterinary medicine. I'm ecstatic about how our speakers delivered exactly what we were looking for."
Pospisil specifically called out AABP District 1 Director and speaker Dr. Liz Brock who tackled the topic of coping with stress in practice. "I found Dr. Brock's honesty and vulnerability in her talk to be extremely inspiring and I will definitely take some of her tips and tricks back home into practice," Pospisil said. "My hope is our attendees left inspired to make change not just in their medical skills, but also in their mentality so they can continue growing into not just good cattle veterinarians, but great cattle veterinarians who are in it for the long haul."
The Recent Veterinary Graduate Conference was launched in 2018 as a result of the different needs of AABP members who are recent graduates, many of whom are unable to attend the AABP Annual Conference in the fall. At the 2021 conference, topics included practitioner wellness, vaccination, tools such as ultrasound, sample taking, consulting skills, buying into practices, pain management, BRD therapy, clinical pharmacology and much more.
"As an organization, we appreciate feedback and hope to be able to continue offering this option for our younger colleagues," said AABP President Dr. Carie Telgen. "The energy felt from these young practitioners was palpable during meals and breaks. One attendee specifically came up and thanked us for putting on this conference and said it wouldn't be her last."
Telgen said that even as a "seasoned" practitioner, she found herself taking notes during the lectures. "The quality of the practical CE from this conference is phenomenal," she added.   
New this year was the edition of an exhibit hall featuring physically-distanced table top exhibits. Pospisil said the exhibit hall was a nice touch as, "a lot of times we don't get to ask the questions we have to the company representatives, so it was nice to get to chat with them in a small setting."
Though the in-person portion of this hybrid conference was smaller than in previous years, every effort was made to make sure COVID-19 protocols were followed such as mask-wearing, physical distancing in sessions and meals and grab-and-go meals. "Ensuring safety by following COVID-19 protocols allowed us to offer this conference to a small number of in-person attendees and live stream it to over 175 virtual attendees," noted AABP Executive Director Dr. Fred Gingrich.
"AABP will continue to look for opportunities to provide CE to our members and make sure we are engaging our newest members," Gingrich said. "They are the most important part of bovine practice – the future."
Registrants and AABP members can access the RACE-approved recorded presentations as a free member benefit through the Beef Cattle Institute website accessible at https://aabp.org.