Conservation Agriculture Gains National Momentum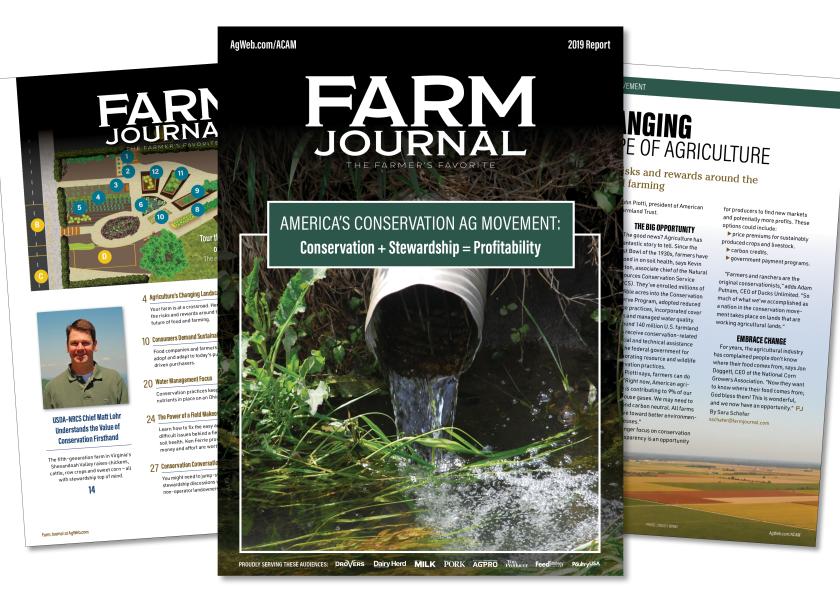 When it comes to food, today's consumers expect the agricultural industry to be transparent about its production practices, make decisions that contribute to sustainability and provide safe, healthy products in the process.
Farmers, ranchers, retailers and other members of the agricultural industry are increasingly stepping up to address those demands. Farm Journal is pleased to support their efforts with an exciting, special-emphasis issue of the magazine. It focuses on one of the largest and most diverse conservation and sustainability-focused, public-private partnerships in our nation's history: America's Conservation Ag Movement.
The special edition of Farm Journal mailed in late December and is also available to read online here: www.agweb.com/acam/conservationmovement
The Movement, in cooperation with Farm Journal's Trust In Food, the Farm Journal Foundation, a wide variety of conservation NGOs, and public and private entities, is deploying extensive nationwide outreach and education across the U.S, notes Mitch Rouda, president of Trust In Food.
"We are partnering with a broad coalition of public and private entities to help tell the story of conservation agriculture now--and through the coming years--across print, digital, radio, TV, and social media channels," Rouda notes.
Here is just a handful of the topics addressed in the special issue:
New Paths to Farm Profitability - Emerging systems look to create a valuable return on investment for soil, water and air stewardship.
The Power of a Field Makeover - Learn how to fix the easy and difficult issues behind a field's poor soil health. Agronomist Ken Ferrie proves the investment and effort are worth it.
In Celebration of Food and Farmers - A new garden placed at the heart of our nation's capital tells the story of modern, sustainable agriculture and champions food producers.
Road Map for Animal Well-Being - Pork, poultry and dairy producers reap the environmental and financial benefits of animal care.
Conservation Conversations - Take cues from farmers on how you can jump-start discussions with nonoperating landowners to adopt conservation and stewardship practices.
Rouda says the special conservation issue of Farm Journal was made possible through the foundational partners of America's Conservation Ag Movement: American Farmland Trust, Corteva, Ducks Unlimited, National Corn Growers Association, National Pork Board, Sanderson Farms, Syngenta, The Nature Conservancy and Valent.
"The support we've had for this work from USDA Under Secretaries Greg Ibach and Bill Northey, as well as Elizabeth 'Tate' Bennett from EPA, is critical to the industrywide partnerships to bring education and resources to producers and retailers as a catalyst to communicate with consumers," Rouda adds.
Along with this special issue of Farm Journal magazine, AgDay TV featured a series, "5 Champions of Conservation," to showcase conservation successes on farms and ranches across the U.S. Watch the videos at www.AgWeb.com/ACAM.
Field Makeover Improves Soil Health and Profits
Overcome Each Field's Weakness