Bio-Vet Introduces QuadriCal for Organic Use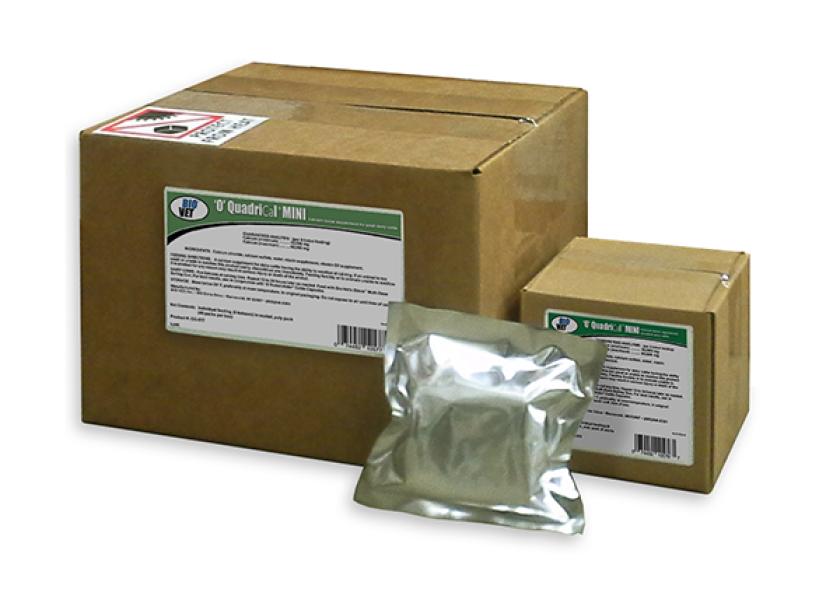 Bio-Vet has introduced a formulation of QuadriCal calcium boluses that may be considered for organic use. The 'O' QuadriCal MINI boluses contain two sources of calcium: calcium chloride and calcium sulfate.

QuadriCal, QuadriCal MINI and now 'O' QuadriCal MINI boluses all contain 50 or more grams of calcium per feeding. All three QuadriCal products also contain niacin to aid liver function during negative energy balance, and vitamin D3, which is critical for calcium utilization in the body. 'O' QuadriCal MINI is available in boxes of 6 or 40 feedings.

Research indicates that subclinical milk fever affects 50 percent of cows second lactation and older in the U.S., and 25 percent of first-lactation heifers.*

For details, contact your local Bio-Vet sales representative or distributor, visit www.Bio-Vet.com or call 1-800-246-8381.

Bio-Vet, Inc., founded in 1991, researches, manufactures and markets direct fed microbial and nutritional products for dairy and beef cattle, small ruminants and horses. Bio-Vet is a leader in using beneficial bacteria to improve animal health and productivity. The company holds U.S. patents for its innovative products.

Source: Bio-Vet, Inc.

*Data on file, Bio-Vet, Inc.