AgSource Launches New Ketosis Management Tool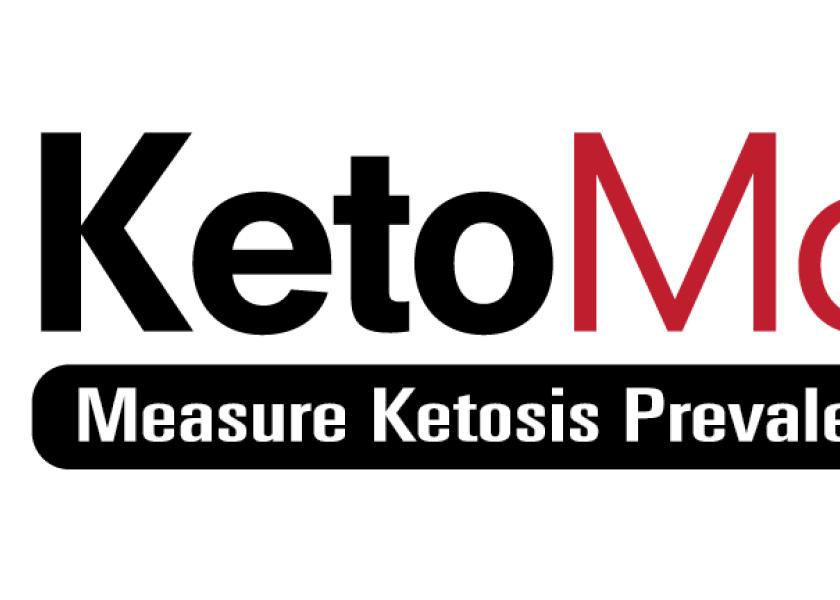 Source: AgSource
AgSource introduces KetoMonitor™, an economical and convenient tool to predict herd-level ketosis prevalence. It uses monthly DHI test-day milk samples. KetoMonitor was developed by Dr. Heather White, Tawny Chandler and Dr. Gary Oetzel from the University of Wisconsin Dairy Science Department and School of Veterinary Medicine in cooperation with AgSource.
From a metabolic standpoint, the start of lactation is the most challenging period in a dairy cow's life cycle. Increased energy demands are often met by mobilizing fat reserves.  This can result in Hyperketonemia, or ketosis, which is defined by elevated ketone bodies in the blood. Ketosis and subclinical ketosis negatively impact milk production, animal health, and profitability. Research has shown that ketosis affects 40 to 60% of dairy cows, at an average cost of $289 per case. Cows with ketosis produce less milk, are more likely to develop a displaced abomasum, and are more likely to be culled from the herd. Ketosis in fresh cows can be seasonal and impacted by herd management changes. 
Most ketosis detection involves testing individual fresh cows weekly using a blood sample and a Precision Xtra™ meter. While milk fat to protein ratios have been used to indicate ketosis problems at the herd level, they are only weakly correlated (r2=0.22) to blood beta-hydroxybutyric Acid (BHBA) concentrations on an individual cow basis. The KetoMonitor is unique because it is based on a set of regression models that predict blood BHBA concentration using a DHI milk sample, component data and individual DHI cow data.
Onset of ketosis is most common between five and nine days in milk (DIM) and incidence is greater in cows than in first-calf heifers. Given these differences in ketosis etiology, models were developed to specifically focus on first-calf heifers and cows and on the early fresh period (five to nine DIM). Together, these models can be used to estimate ketosis prevalence in the herd on the day of milk test with high accuracy (91%). Research validates that factors affecting the onset of ketosis also differ among dairy breeds.  As a result, a separate KetoMonitor model is currently being developed specifically for Jerseys, with expected completion in May, 2015.
The KetoMonitor report:
•  Estimates herd ketosis prevalence on the day of milk test
•  Guides management and nutrition decisions
•  Alerts you when blood testing protocols should be employed
•  Tracks the impact of management changes on transition cow health
Although not designed to be an individual cow test, it also flags cows between five and 11 DIM that   are likely to have ketosis
KetoMonitor provides a multi-tool approach. It can be used to evaluate monthly ketosis prevalence and can identify when blood testing should be done. When incidence is greater than 15%, research shows the expense of blood testing every fresh cow twice is justified.  However, when herd incidence levels are below 15%, time and money spent on blood testing can be saved. Depending on individual farm constraints, the economics and practicality of blood testing may be slightly different and KetoMonitor can provide a consistent prevalence indicator month to month. The KetoMonitor report tracks levels over a period of twelve months, allowing producers to recognize the impact of seasonal and management changes.
According to Robert Fourdraine, Vice President of AgSource DHI Operations, "KetoMonitor is an amazing new tool to more closely monitor and manage a costly, common disease.  Combined with the Transition Cow Index® from the AgSource Fresh Cow Summary, it provides a comprehensive set of tools to monitor and manage transition cows."
AgSource members who access their DHI information and reports online via MyAgSource™ will find the KetoMonitor report included at no additional charge. For more information about KetoMonitor contact Erin Berger at eberger@agsource.com, or call AgSource customer service at 800-236-4995.
AgSource is the largest, full-service DHI provider in the country, conducting research and development, field data collection, laboratory analysis and diagnostics, management information, meter service and outreach and education. AgSource is a member-owned cooperative and a subsidiary of Cooperative Resources International. Learn more at www.AgSource.com.