Troubleshooting S. Dublin In Dairy Calves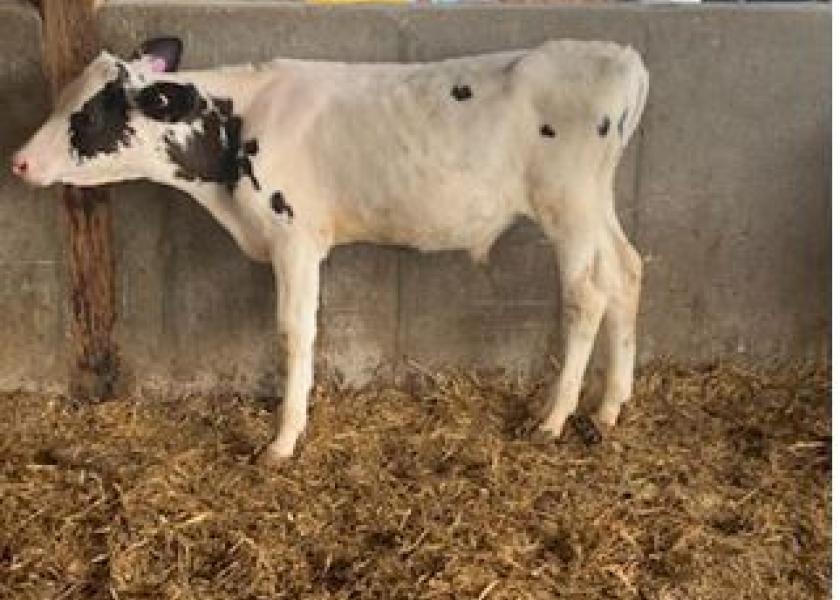 The prevalence of Salmonella Dublin in U.S. dairies has been on the upswing in recent years, according to the National Animal Health Monitoring System (NAHMS). The NAHMS estimates S. Dublin is present today on about 8% of U.S. dairy farms.
S. Dublin is an issue that Bovine Veterinarian Kayla Clark says she is addressing more often for her clients. While it can be a problem in cows, she finds it most frequently in calves.
"The two common age groups are hutch calves (pre-weaned) and transition calves (post weaning) at 3 months to 6 months of age," says Clark, DVM, Sterner Veterinary Clinic, Ionia, Mich.
"It's only been recently, though, that we've really seen the problem in transition calves," she adds.
A common scenario she encounters is a dairy producer calls to report a dead calf and that some of the other calves, that had "seemed fine the day before," are now lethargic, acting depressed and showing respiratory distress of some kind.
The latter point is key. Typical Salmonella infections appear as gastro-intestinal; however, S. Dublin most often presents as a respiratory illness.
"Either the calf's respiratory effort or rate is increasing, and they are often coughing," Clark says.
If a dead calf is present, Clark conducts a necropsy. "On necropsy findings, the big thing we're looking for is interstitial pneumonia," she says.
For sampling purposes, Clark typically collects the lungs, liver with the gallbladder, intestine species and mesenteric lymph nodes. S. Dublin commonly spreads through the bloodstream so calves tend to get an enlarged liver, icterus or jaundice, and large mesenteric lymph nodes.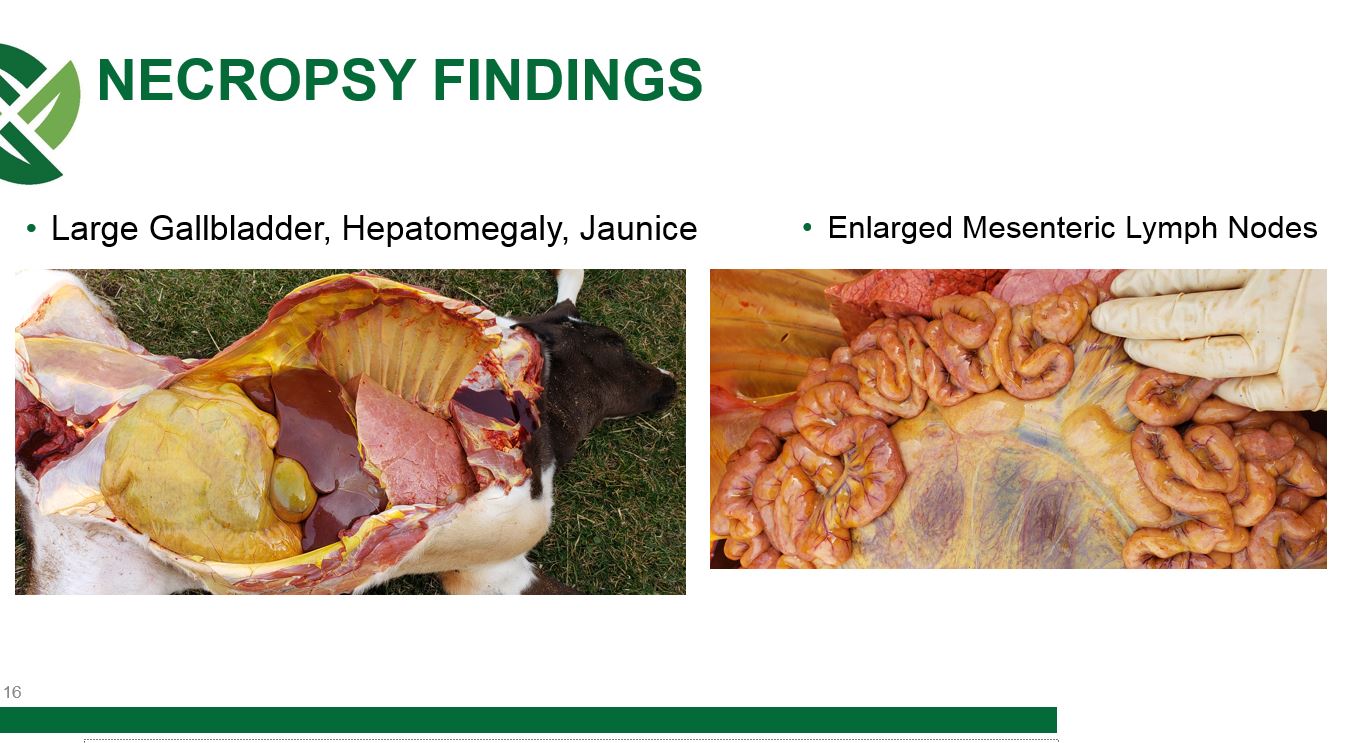 "We've had the best luck getting the liver with the gallbladder," she says. "We've been able to find Salmonella in the gallbladder on most of our cases where we can't find it in the intestines. Anytime we get a positive culture we are looking at that sensitivity, and we are looking at that serotype."
Fecal culture tests can be done to check for S. Dublin, but a single negative test won't rule out infection because of the intermittent shedding pattern of the disease.  A PCR test can tell you whether an animal is positive or negative for Salmonella, but few labs have PCR tests available specific to S. Dublin. An ELISA (enzyme-linked immunosorbent assay) test is significantly more sensitive than fecal cultures to identify carriers, and it is most accurate when used on calves 3 to 10 months of age. It can also be used on adults and milk.
Unfortunately, there are no silver bullets available to treat S. Dublin and restore calves to their full health.
"The treatment of calves infected by S. Dublin is directed to restore hydration status and correct electrolyte imbalances through fluid therapy, controlling inflammation with nonsteroidal anti-inflammatory drugs (NSAIDs) and treating bacteremia with antimicrobials in situations where a suitable drug is identified," write Angel Abuelo, Michigan State University Large Animal Clinical Sciences and Faith Cullens, Michigan State University Extension, in their article, "Salmonella in Dairy Calves." It can be read in its entirety here: https://bit.ly/2Gwq6cI
Even with treatment, calves affected by S. Dublin still have a significant level of mortality and high morbidity. Clark says it's common for calves to become debilitated, chronic poor doers with stunted growth and reduced productivity if they make it into the milking herd. Those that do are frequently culled. Furthermore, a proportion of those calves that don't die are likely to become carriers for life and shed the bacteria intermittently in feces, colostrum, milk or semen.
All those potential negative outcomes add up to the reason Clark encourages dairymen to work closely with their veterinarian to "troubleshoot an outbreak and also prevent outbreaks."
Finally, Clark says to remember that S. Dublin is a zoonotic disease, meaning it can be transferred to humans. It is killed by pasteurization, so never drink raw milk or consume uncooked dairy beef.
Clark addressed the issue of S. Dublin in dairy calves during the 2020 Dairy Week webinar, "Salmonella: Prevalence, Prevention and Treatment." R. Kent Fenton, DVM, Feedlot Health Management Services Ltd., partnered with Clark on the program and addressed dairy calf grower operations (beef cattle).