( Canva.com )
Women represent a growing number of food and mixed animal veterinarians in the United States. Recent AVMA statistics show women continue to make up more of the veterinarians in large animal practice. 
From 2012 to 2018, the percentage of female large animal exclusive veterinarians increased 4%, the percentage of female large animal predominant veterinarians increased 7% and the number of female mixed animal veterinarians increased 6%. 
Here's a look of the makeup of each of these categories in 2018:
As the number of women in the profession continues to increase, we want to know: have you experienced or witnessed sexual discrimination or harassment as a bovine veterinarian? 
"They treat me like a child that they have to indulge, but it's obvious they don't respect my knowledge or position," writes one female veterinarian. 
Another doctor shares how she handles discrimination. "I have learned that to manipulate discrimination to my advantage. I fake the weak damsel in distress," she writes. "It makes it easier to deal with if they feel needed, and leave me alone to get the job done. And no matter how many times I come to the aid to one of my male colleagues, they always like to rub my nose in mistakes but have amnesia about all the times I nailed." 
Have you experienced harassment or discrimination? Take this poll. 

Have you witnessed harassment or discrimination? Take this poll.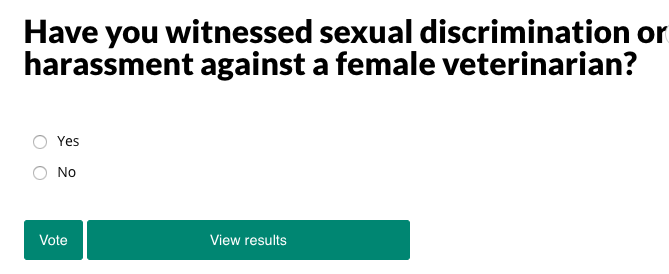 Do you have a personal story to share? We'd love to hear it.
Use this form to share your story with Bovine Veterinarian.