In spite of generally favorable living conditions, preweaned calves often suffer losses from BRD. ( John Maday )
The famous 1935 George Gershwin song from "Porgy and Bess" begins with "Summertime, and the livin' is easy." But in spite of appearances, the livin' isn't always easy for calves on summer pastures with their good-lookin' mammas.
In a large 2013 survey of 2,600 cow-calf producers in three Eastern and three Plains states, Mississippi State University researchers found preweaning bovine respiratory
disease (BRD) was diagnosed in at least one calf in 21% of operations.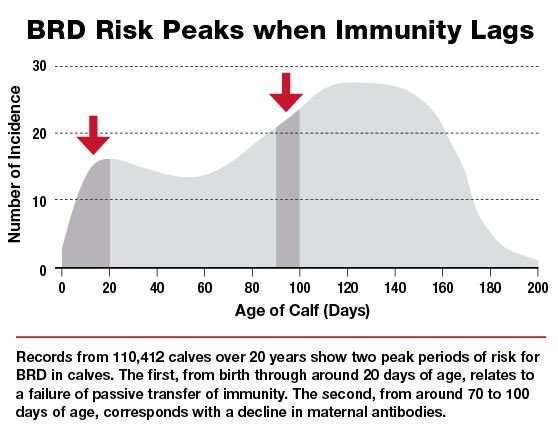 During a recent Academy of Veterinary Consultants (AVC) meeting, South Dakota State University veterinarian Russ Daly said preweaning BRD is the leading cause of mortality in calves from three weeks to weaning.
Daly says the risk factors for BRD in feedyards and stocker operations are well-known and extensively studied, but we know less about the disease in beef calves. The incidence of calf BRD varies widely between herds and from year-to-year within herds. Weather plays a role, but does not appear to account for all the variability in BRD incidence.
Researchers at the U.S. Meat Animal Research Center in Clay Center, Neb., collected several years of data on 110,000 calves, and noted two seasonal peaks in the incidence of BRD. One peak occurs from birth through around 20 days of age, and another takes place when calves reach 70 to 100 days of age. Other studies have shown a similar pattern, Daly says. Researchers believe the early spike relates to a failure of passive transfer of immunity from the dam, and the next peak at 3 to 5 months occurs as maternal antibodies decline.
Prevention
The mix of pathogens involved in preweaning BRD is similar to older calves. Daly says the SDSU diagnostics lab finds Mannheimia haemolytica, Pasteurella multocida, Histophilus somni, mycoplasma and coronavirus, usually in association with at least one other pathogen.
Timely vaccination for cows and calves plays a key role in preventing preweaning BRD, but good management practices, including cow nutrition during gestation and ensuring the calf receives adequate quantity and quality of colostrum, are critical in supporting calf response to a vaccination program.
In another AVC presentation, North Dakota State University Extension veterinarian Gerald Stokka suggested these vaccination plans for cows and calves (see left sidebar).
Risk factors
The incidence of BRD in preweaned calves varies widely between herds and from one year to the next, making risk difficult to predict. Researchers have, however, conducted several studies to identify herd-level risk factors.
In a large, case-control study, researchers from several universities cooperated to collect data from herds in Nebraska, North Dakota and South Dakota. Among a long list of factors measured, they found statistically significant risk associated with three management practices:
Herds with 500 or more cows had higher risk of calf BRD than those with fewer than 500.
Operations using intensive grazing displayed a higher risk than those using conventional grazing practices.
Operations that synchronize cows and heifers for breeding had greater risk of calf BRD.
Each of those practices offer potential advantages to ranchers of course, but could provide more opportunities for exposure to pathogens. Producers aware of those risks could benefit by working with their veterinarians to fine-tune their preventive strategies.
Daly outlined several other studies intended to identify herd-level risk factors for preweaning BRD. Variables that seem to associate with higher risk in at least some studies include:
Genetics: Some breeding lines appear more susceptible than others to calf BRD.
Male calves appear more susceptible than female calves.
Calves from younger dams—two years of age or younger.
Inadequate passive transfer of immunity from the dam.
Dystocia.
Twins.
Calves born without high serum titers for bovine herpes virus (BHV) or bovine viral diarrhea virus (BVDV).